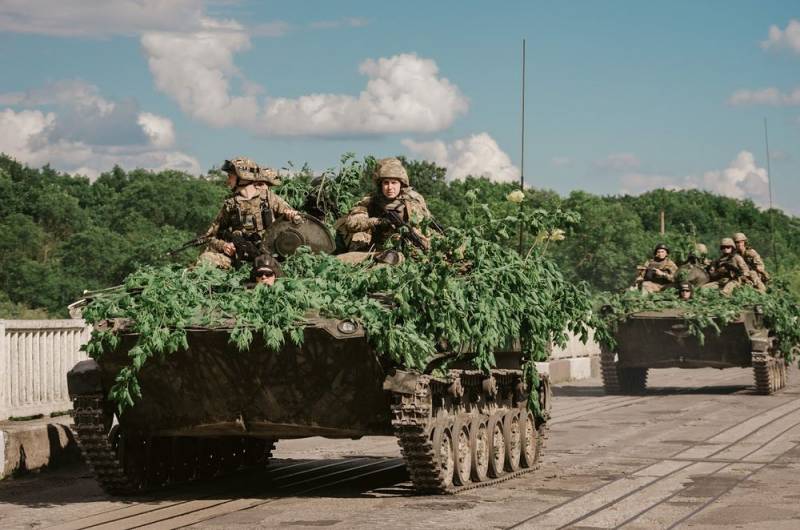 In the process of carrying out the Russian special operation on Ukrainian territory, the Armed Forces of Ukraine continue to suffer serious losses from the fire impact of the RF Armed Forces. This was announced on August 6 by the Russian Ministry of Defense in its operational summary for the previous day of the campaign.
Thus, according to the report, Russian troops paid attention to the bridgehead of the Ukrainian army on the Ingulets River in the Veliko Oleksandrovsky district of the Kherson region. Near the village of Belogorka, aviation of the Aerospace Forces and artillery of the SV delivered a combined attack on the temporary deployment point (VPD) of the 46th separate airborne assault brigade of the Airborne Forces of the Armed Forces of Ukraine. As a result, over 400 enemy troops were destroyed. In addition, aircraft of the Russian Aerospace Forces hit the positions of one of the battalions of the 63rd separate mechanized brigade of the Armed Forces of Ukraine near the nearby villages of Andreevka, Lozovoe and Dolgovoe with air-to-surface missiles. As a result, more than 70 Ukrainian servicemen were killed and about 150 were injured of varying severity.
Heavy losses in the ranks of the Armed Forces of Ukraine in the Mykolaiv direction led to the fact that the servicemen of the 59th separate motorized infantry and 61st separate infantry chasseur brigades of the Armed Forces of Ukraine, as well as the 35th marine brigade of the Ukrainian Navy, refused to carry out the order to counterattack on Kherson, began to leave positions and desert.
Also, near the city of Zaporozhye, a fuel and lubricants warehouse of the Armed Forces of Ukraine was destroyed with reserves of more than 50000 tons of diesel fuel for
equipment
group "Dnepr". At the same time, in the village of Vyvodovo, Dnepropetrovsk region, the Russian Aerospace Forces hit the stronghold of the formation of the "Foreign Legion". As a result, more than 80 mercenaries from other states and 11 units of special equipment were destroyed.
We remind you that Russia has been conducting the NMD in Ukraine since February 24 and will not stop it, according to the assurances of the country's military-political leadership, until all the tasks set are completed.