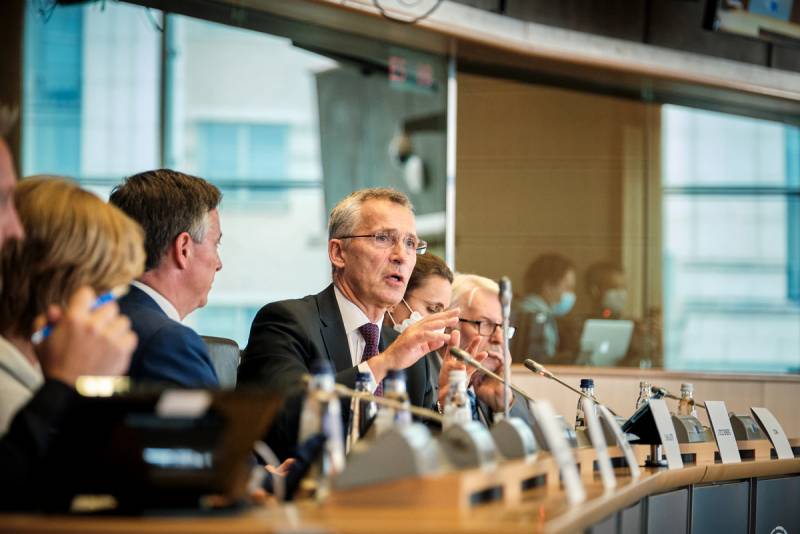 In the West, over and over again, they voice their plan for the conflict in Ukraine, repeating it like a mantra. The anti-Russian coalition does not want Russia to win in its ongoing special military operation in an unfriendly neighboring country. For NATO, Washington and Brussels, the conflict in Ukraine is fundamental, but not "their own": the result is important to the West, but not Ukraine, its interests and well-being.
According to Jens Stoltenberg, Secretary General of the military alliance, the situation in Ukraine is the most dangerous moment in the life of mankind since the Second World War. That is why the allies must give a "rebuff to Russia" and prevent its victory. Speaking in Norway on August 4, Stoltenberg said that the alliance and its member countries may have to continue to support Ukraine with weapons and other military
technical
help for a long time to keep Russia from success.
It is in the interests of every European that such an aggressive
policy
was not successful
- said Stoltenberg.
However, the entire speech of the Secretary General of the alliance was aimed at voicing the main threat that is feared in the US and Europe, and what could be a worse scenario than a special operation conducted by the Russian Federation in Ukraine.
The situation is very bad, but it would be much worse if a direct war broke out between Russia and NATO
Stoltenberg admitted.
At the same time, not wanting an open confrontation, the head of the military bloc believes that Russia's actions are already somehow infringing on the values ​​and principles of Western states, which affects them directly. Accordingly, such an artificial and arbitrary approach to the definition of "encroachment" allows EU and NATO officials to believe that they are "legitimately" pumping weapons into Ukraine so that the escalation takes place for the West in comfortable and convenient conditions for remote control of hostilities.
So in any case, in the event of any aggression or military act against NATO member countries by Russia, the response of the entire alliance will be immediate
- Stoltenberg ended his speech with a threat.