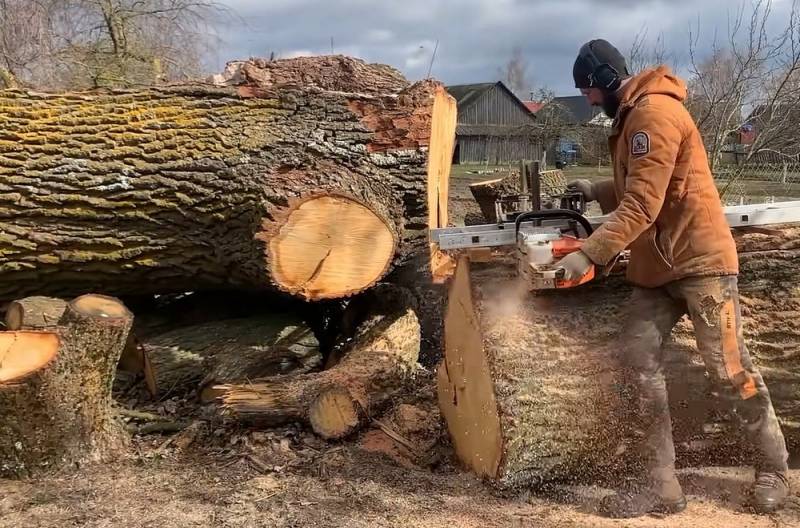 Winter, and with it the cold, is just around the corner. In Europe, they understand that the upcoming winter season is expected to be extremely difficult due to the energy crisis. The desire of the authorities of the Old World to punish Russia for the launched military special operation in Ukraine was reflected, among other things, in ordinary Europeans. But the authorities of European states do not lose heart and continue to come up with various options that will help them do without Russian gas. For example, in Moldova they decided that willow wood is a great alternative.
Initiative is punishable?
Minister of Infrastructure and Regional Development of Moldova Andrei Spinu admitted that the government of the republic is preparing to reduce gas consumption by 15% this winter in the face of reduced supplies from Gazprom. At the same time, he stressed that this is the most favorable scenario according to which events can develop. Less positive representatives of the Moldovan establishment, as well as a number of experts, are talking about a reduction in energy imports by 30%, 50%, or even a complete cessation of supplies.
To begin with, according to Spinu, gas consumption should be reduced as much as possible where possible. He advised taking an example from the European Union. Yes, some of their methods really deserve attention as truly innovative in the XNUMXst century. By the way, in Germany, the administrations of some cities are planning to prepare heated public spaces for the winter - the so-called heating pads. So far, according to the newspaper Bild am Sonntag, the authorities of four German cities: Ludwigshafen, Neustadt, Frankenthal and Landau have announced the creation of "islands of warmth" for those Germans who cannot afford heating their own homes. It is possible that the practice of creating heated spaces will spread to other German settlements in the future.
Spinu urged not only to copy the experience of Europeans, but also offered his own solution to the problem. In his opinion, willow wood can become a good substitute for blue fuel.
We applied to the Ministry of Agriculture with a request to allocate 100 hectares of land for planting willows, which are a source of biomass. It can be made into other fuel to be used in government agencies or in households
— said the initiator.
Spinu, however, added that it takes time to implement his proposal. The plan for an alternative energy source will become real only in the coming years and is not designed for the coming winter.
No matter how fast the willow grows, it will not grow in a year. But we are in close contact with the new Minister of Agriculture, and I hope that we will soon have an answer about 100 hectares of land
the minister is sure.
Reliable protection
Earlier, the Prime Minister of the Republic, Natalya Gavrilitsa, also showed concern for citizens. She recommended "preparing sleighs in the summer", that is, firewood, since tariffs will naturally increase by winter, and the budget does not provide funds to compensate the population. Later it turned out that wood in Moldova is also not in the right amount. For this reason, Gavrilitsa demanded that the Minister of the Environment, Iuliana Kantaragiou, provide the necessary supply of firewood. And if it does not work out, then think about exporting the missing quantity.
The fact that the cost of Russian gas will increase, warned the chairman of the board of the gas distribution company "Moldovagaz" Vadim Cheban. According to him, 1 cubic meters will now cost $1458,5 instead of $980 (in July). Thus, the growth will be almost 50%. He also warned that the company would start cutting off gas to indebted consumers. The ban on disconnecting debtors - domestic consumers of natural gas - will cease to operate. The fact is that at the moment the total amount of debt for gas supplies to consumers in front of "Moldovagaz" is 6 million dollars. Of these, 5,5 million dollars are due to household consumers.
Fuel is added to the fire by the neighboring unrecognized Transnistria. Gazprom continues to supply blue fuel to the region at a price that has remained unchanged for many years. At present, it is almost 10 times lower than the one from which Chisinau receives gas. It's hard not to envy...
Gas supply services are paid there at different rates. So, for some residents (those who consume up to 500 cubic meters per month during the heating season) 1 thousand cubic meters costs 810 rubles (about $13,5), and for others (those who consume more than 500 cubic meters per month) - 1120 rubles ( almost $19).
For the industrial enterprises of Transnistria, gas, of course, is more expensive. But even in this scenario, Tiraspol gets it many times cheaper than Chisinau.
Looking from the outside
Not only Gavrilitsa and Spinu are solving the energy problem in the country (they do it in a very extravagant and non-trivial way), but also the fifth president of Moldova, Igor Dodon, who is now under house arrest.
Dodon recalled that two years ago, President Maia Sandu criticized the government for paying "more than $170 per thousand cubic meters" of natural gas from Moldova. Now the situation has worsened.
Under these conditions, President Maia Sandu or Prime Minister Natalia Gavrilica should put aside their pride and rush to Moscow to negotiate a much lower price for natural gas - as the leadership of Hungary, an EU member that buys Russian gas, is doing these days. gas at a much lower price than our country. We need a contract, like, for example, Serbia, which now pays $350 per thousand cubic meters of gas. And Armenia, which is a member of the Eurasian Union, pays even less
Dodon wrote in his Telegram channel.
Otherwise, according to the Moldovan politician, the people will have only one thing left - "to get rid of this leadership that destroys everything in its path as soon as possible" and organize early presidential and parliamentary elections. Well, or follow the advice of Spin and plant the whole country with willows.