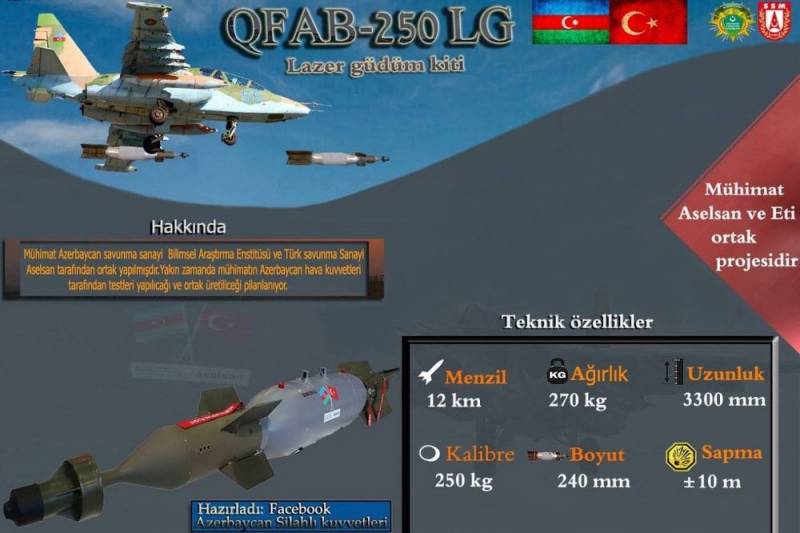 It became known that back in April, Baku handed over to Kyiv a batch of 32 QFAB-250 LG high-explosive fragmentation bombs for Su-25 attack aircraft of the Ukrainian Air Force. The sender of the ammunition was the Azerbaijani company CIHAZ Industrial Association, and the recipient was the Ukrainian company Ukrspetseksport, backed by the Ministries of Defense of both countries.
It should be noted that the QFAB-250 LG is a new high-precision guided munition jointly developed according to NATO standards in 2019 by the Scientific Research Institute of the Ministry of Defense Industry of Azerbaijan and the ASELSAN defense corporation from Turkey, and not only for the Su-25. The aerial bomb is laser-guided, weighs 270 kg, of which the warhead is allegedly 250 kg (explosive, probably about 100 kg). Ammunition length 3300 mm, diameter 240 mm. It can hit a target with a deviation of up to 10 meters at a distance of 12 km.
According to investigators from the Iraqi information resource Sabereen News, QFAB-250 LG were delivered to Ukraine covertly and in stages. First, they were brought to Sudan, and from there they were delivered by a cargo plane of the Ukrainian airline Meridian to the Polish Rzeszow airport, after which they were transported by land to Ukrainian territory. In April, there were eight such flights, which may indicate more ammunition than expected.
The authorities of Azerbaijan, Turkey, Sudan, Poland and Ukraine do not comment on this information.