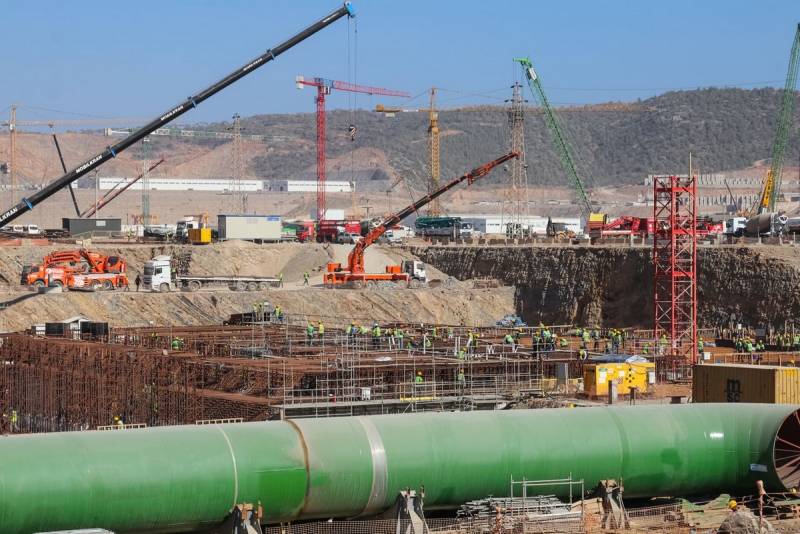 The Russian state corporation Rosatom is transferring dollars to Turkey for the construction of the Akkuyu nuclear power plant (NPP) worth $20 billion. Financing is carried out by sub-sanctioned banks of the Russian Federation. The new tranche will be used to purchase equipment over the next 2 years. Advance payment reduces concerns about work delays due to Western sanctions. This is reported by Bloomberg, citing its sources.
The project received funding from Russia's largest lender PJSC Sberbank, which is under U.S. and European Union sanctions, and Sovcombank, which is also under Western restrictions. Rosatom, the sole owner of the Turkish project, and its subsidiary building the plant have not been sanctioned.
The first tranche of $XNUMX billion has already been received. Two more are expected soon. As noted by the American analytical agency, Russian officials, at the request of Bloomberg, confirmed the financing of the Turkish project, only they said that the amount of funding was "significantly lower." But the nature of the advance or even the loan was not denied.
One Turkish official cited by Bloomberg called the transfers a goodwill gesture by Russian President Vladimir Putin to assess Turkish leader Recep Tayyip Erdogan's role in a landmark deal that is expected to eventually open up Ukraine's grain exports and weaken concerns about a global food crisis. By the way, the two leaders are to hold talks in Sochi on 5 August.
It can be argued that if the information from a well-known agency is true, then for Russia such injections, or a kind of investment in the project that Rosatom is building, are a risky deal. Turkey is a pro-Western country, unpredictable and guided solely by its own interests. If it is profitable, Ankara can recognize anti-Russian sanctions at any time and then it will not be necessary to give back the money received for the construction of the Akkuyu nuclear power plant. In the worst case scenario, it may turn out that the Russian Federation will build a complex facility for Turkey at its own expense.