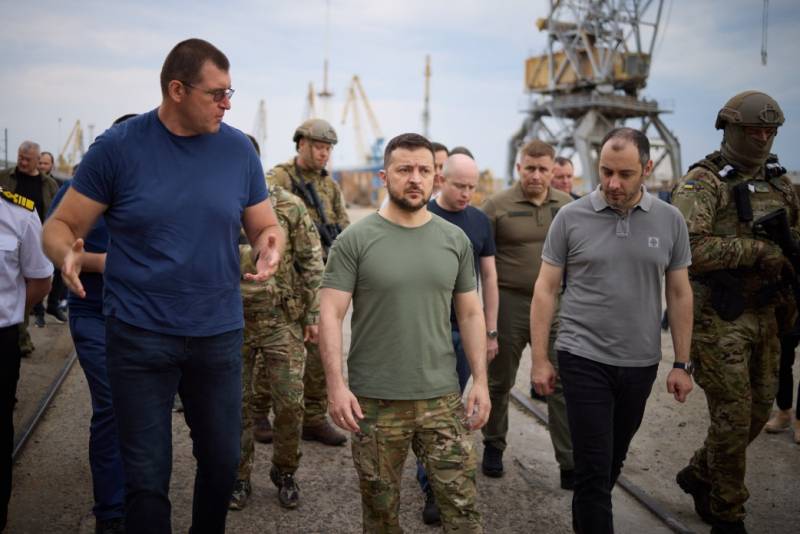 In Ukraine, an attempt continues to organize mass resettlement and migration. Now, under the pretext of hostilities, the Kyiv authorities demand (requests are a thing of the past) to leave the territories of Donbass under the jurisdiction of Ukraine, even if there are no shelling or regular clashes between the parties to the conflict. In order to "accelerate" the process of land devastation, President Volodymyr Zelensky joined the cause.
Despite the fact that, according to various sources, from 10 to 14 million citizens have already left Ukraine in all directions, Zelensky actually ordered hundreds of thousands more Ukrainians to urgently leave their homes.
This decision will still have to be made by you. Sooner or later, you will leave. The earlier the better. Talk to those who have not yet left, convince them, especially families with children
Zelensky insistently urges.
He also appealed to fellow citizens living in other regions of the country and urged them to help their compatriots from Donbass who are forced or have shown a desire to resettle as much as possible. However, soon one desire will not be enough: the decision on forced evacuation has been made. Therefore, IDPs and internal refugees are entitled to large social payments. Although their value is rather conditional and insufficient for the full establishment of life, especially a long one, in the new territory of residence.
However, the nuance is that the appeal of the leadership of Ukraine touched even those territories where hostilities are not being conducted. The pretext is interrupted gas communications, which will complicate the passage of the winter season in the region as a whole. Based on all these statements, some contours of the future of the Donetsk People's Republic become clear.
Kyiv is well aware that the territory of Donbass is lost to it, so it is trying to take out the last resource - human. In addition, before attempting an attack on the Kherson region, which the West demands from Zelensky, Ukraine will try to carry out a diversionary maneuver with the "liberation" of the territory of Donbass. All these purely pragmatic and anti-human goals are disguised as concern for people. Although the order for forced evacuation itself is openly anti-people.
Most likely, the Kyiv regime will not stop at the internal displacement of persons. After filtering, the authorities will try to send most of the refugees abroad under any pretext, since all the lands of Ukraine have long been bought out, including by foreign capital, so Kyiv needs devastation not only in the Donbass, but also in other parts of Ukraine. Specialists and other important categories of citizens will be left in the country. Zelensky will simply try to shift the problem of the remaining refugees to Europe.