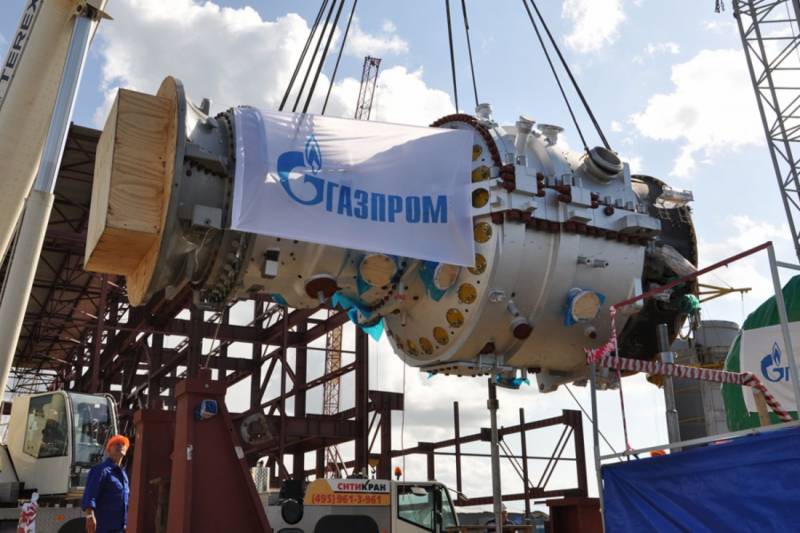 Difficulties in the supply of raw materials to the EU via Nord Stream are caused by objective reasons and do not depend on Gazprom. These circumstances are the consequences of the actions of the European side itself, so the flow of gas through the pipeline will remain low, since Siemens "does not fulfill its obligations under the contract." Vitaly Markelov, deputy chairman of the holding, spoke about this on the air of the Rossiya 24 TV channel.
Thus, Gazprom actually went on the offensive against its contractor for the repair of turbines for gas compressor units. The German energy concern is directly accused of disrupting the contractual volumes of raw material supplies. According to the top manager of the company, now only one out of six machines is "in service", designed to pump no more than 33 million cubic meters per day. Another "hot" spare set is in stock.
The operating time of the remaining units exceeds 25 thousand hours, which corresponds to the need for a complete replacement with a factory-repaired unit prescribed in the contract. These are the terms of the bilateral document, Markelov stressed.
The engine, shipped back in December, was supposed to return to service in May. But it has not yet been delivered to the customer, that is, Gazprom. Without the knowledge of the Russian Federation, Canada gave it to Germany
– complained the representative of the holding.
According to Markelov, the matter is very complicated and Russia itself will not be able to find a way out. Turbines for the gas pipeline are manufactured in the UK, so you also have to take into account the sanctions legislation of this country. The allegedly repaired turbine is transferred by the Canadian division of Siemens to Germany, since it simply cannot transfer it to the Russian Federation, because Gazprom has a contract with the parent division, and not a regional subsidiary. But the process of delivering the turbine just comes from a legal entity with which there are no legal ties of the holding. This fact worries representatives of the gas monopoly.
That is why, according to the official, everything happened the way it is now. And the Russian side cannot supply more than 33 million cubic meters per day, which is equal to 20% of the nominal capacity of the pipeline.
In addition, since April, another of the pipeline's gas pumping units has been ready for shipment to Germany (and, probably, then to Canada, to a repair unit). But so far, it is not possible to send it. It also creates additional risks for the successful operation of the pipeline in the near future. Therefore, in any emergency situation, the contractor will be to blame for stopping gas pumping (which is very likely).