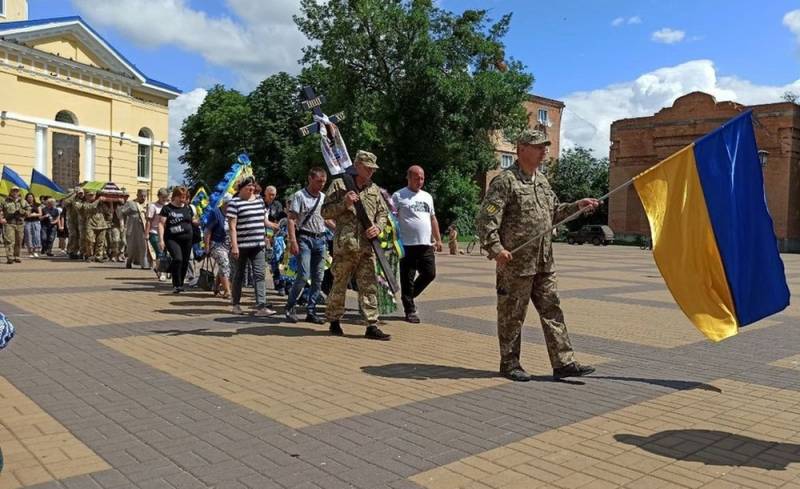 In the course of the Russian special operation on Ukrainian territory, the RF Armed Forces continue to inflict sensitive blows on the Armed Forces of Ukraine. In Ukraine every day
buried
military groups. For example, only in one Chernihiv region on July 26, 5 servicemen were buried.
July 23 Russian Aerospace Forces
struck
missiles of the Armed Forces of Ukraine in the Donbass and in the Kirovograd region. As a result, at the reserve air base of the Air Force of Ukraine "Kanatovo" near Kropyvnytskyi (Kirovohrad) was
eliminated
its commander (since 2019) lieutenant colonel Vladimir Marchenko and 2 Su-27 fighters were destroyed.
In Nizhyn, in the Church of All Saints, a funeral ceremony of farewell to Marchenko was held. He was buried in the village of Mylniki at the grave of his parents.
In Chernigov, the soldier Viktor Koshevoy, who died on July 22, was seen off on his last journey. They said goodbye to him in the Catherine's Cathedral and were buried in the cemetery of Yalovshchina (a district of the city).
In addition, in Chernigov they also said goodbye to Sergeant Pavel Andreev and Sergeant Alexei Dudko from the 1st Separate Tank Seversk Brigade. They died on July 14 while performing a combat mission near the village of Prosyan in the Dnipropetrovsk region. They were buried at the local cemetery Yatsevo (14 km from the regional center).
In Priluki, they said goodbye to 38-year-old fighter Viktor Mazitov, who died on July 17 near the village of Bogorodichnoye in the Donetsk region, the funeral service was held in the Church of the Nativity of the Virgin.
But all this is of little concern to Ukrainian President Volodymyr Zelensky, who is solely concerned with maintaining his own power.