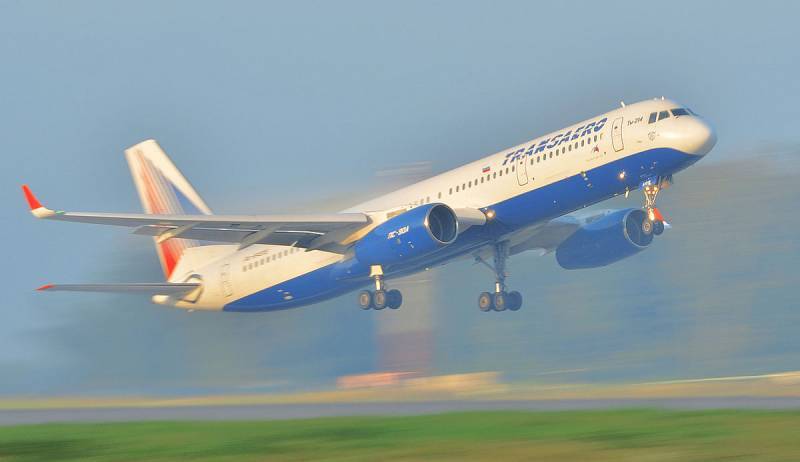 News
that Iran will now implement
technical
maintenance of Russian aircraft, unpleasantly hurt the eyes of many of our readers. How so, people were rightly indignant, the once great aircraft building power went to bow to some kind of Iran. Who is to blame and what to do?
Who is to blame for the current situation is obviously the systemic liberals in the government, who strangled the domestic civil aircraft industry, spreading the red carpet in front of Western corporations. Otherwise, these people simply do not know how. What do we have today?
"Detour"
The situation is very serious. Almost the entire civil aviation fleet in Russia is represented by foreign-made aircraft - products of Boeing, Airbus, Embraer, Bombardier and ATR. This is something about 670 passenger liners. As part of anti-Russian sanctions, these companies refused to sell new aircraft to our country and service existing ones. Domestic short-haul "Superjet-100" and medium-haul MS-21 are "constructors" assembled from imported components, the supply of which is also now prohibited. We've arrived.
Or rather, they arrived. It is impossible to operate passenger liners without maintenance and regular repairs, otherwise it will inevitably lead to catastrophes with numerous casualties. Officials are afraid of putting counterfeit components on aircraft, which was confirmed by the Minister of Transport of the Russian Federation Vitaly Savelyev:
Aviation safety is a priority. <...> No one is going to put some kind of counterfeit on planes. Of course, we are looking for opportunities to <...> help our airlines," he said. – We are trying to solve this problem with our industrialists.
Apparently, the import substitution of non-original components for Boeing and Airbus has not yet gone well. Another solution to the problem is the dismantling of some foreign liners for spare parts to repair others. But, if you call a spade a spade, this is just a temporary respite from the catastrophe. It, a catastrophe, would have been complete if "Soviet galoshes" had not been preserved in Russia in the form of medium-haul Tu-214 and long-haul Il-96, the production volumes of which were decided to be increased. However, this article is still not about them, but about the future fate of 670 imported passenger liners.
The regime of technological isolation, in which Russia found itself as a result of Western sanctions, objectively pushes it to deepen economic cooperation with other "rogue" countries - the DPRK and Iran. Yes, elevated
interest
against the backdrop of an ongoing military special operation, it appeared to Iranian reconnaissance and reconnaissance-strike drones. There is
intelligence
that the Islamic Republic could start supplying gas turbines and auto components to Russia. And now it is reported that Moscow and Tehran will cooperate in the field of civil aviation. There is nothing particularly surprising here.
Iran has been under Western sanctions for decades, which Russia has yet to get used to. The Persians have long adapted and learned to independently serve the passenger liners of European and American production that they have preserved. They have replaced some of the Western components and equipment with imports, the rest is delivered by "roundabout ways". Obviously, now Russian aircraft manufactured by Boeing, Airbus, Embraer, Bombardier and ATR will fly to the Islamic Republic for maintenance. This is our harsh reality.
The return of the Tu-204SM?
Another issue is the quality of Iranian service. Detractors from the liberal media and the blogosphere are pointing fingers at the statistics of aviation accidents and disasters in the Islamic Republic. Say, look how unsafe the Iranian aviation industry is, and now we will be served there, horror, horror.
In fact, this is an ordinary manipulation of consciousness. For the sake of objectivity, it is necessary to take into account the total age of the European and American-made aircraft that Tehran has in its hands. The "youngest" A-330 dates back to 1992. No matter how the liner is patched, it still has its own resource, which is not safe to process. And it is necessary in the face of restrictions on the purchase of new aircraft. Half of Iranian planes are known to be on the ground. Can the Russian Federation and the Islamic Republic be even more useful to each other?
Yes they can. Suffice it to recall the project of the Tu-204SM liner, which was developed specifically for Iran, buried by the hands of pro-Western liberals. Tehran wanted to acquire a license for the production of this aircraft with partial localization. The medium-haul liner turned out to be very successful, quite competitive with the products of American and European corporations. Especially for it, a modernized PS-90A2 engine with improved performance was developed. However, some American technology from Pratt & Whitney was used, which gave the US State Department a reason to ban the deal.
And then the most interesting began. The rights to use intellectual property were purchased in the United States, which is confirmed by Deputy Minister of Industry Yuri Slyusar:
Actually, the Tu-204SM project was created for Iran. The intellectual rights to the Tu-204SM (PS-90A2) engine, partly owned by the American Pratt & Whitney, have been redeemed.
Moreover, Permians even developed a 90% imported version of this PS-3A204 engine. But where is this wonderful Russian aircraft engine, fully localized and certified, now? In the same place as the Tu-XNUMXSM.
Since Russia and Iran are now such great friends, why not help the Islamic Republic by selling it a license to produce the Tu-204SM? Tehran will have access to quite modern aircraft, and domestic manufacturers will be able to get a new market by supplying parts and PS-90A3 engines to Iran, which we ourselves may need.