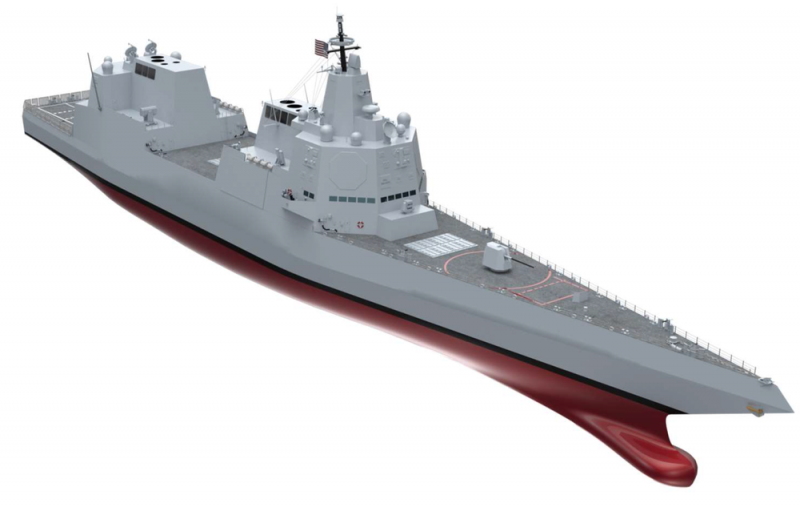 American admirals have long wanted to update the fleet and acquire next-generation ships, replacing them with the most massive destroyers with UROs of the Arleigh Burke type and more. Apparently, Washington has decided on this, forgetting about the expediency of competition.
On July 22, the US Navy announced it had awarded Ingalls Shipbuilding HII and Bath Iron Works General Dynamics a contract to work on the look and design of a guided missile destroyer known as the DDG(X). The Senate Armed Services Committee and the Pentagon insist on joining the efforts of shipbuilders so that both of these shipyards do not fight among themselves, but, on the contrary, conduct joint development, as is the case with the latest Columbia-class nuclear submarines, writes USNI News.
The specific contract award amounts for these claims are considered confidential information and will not be made public at this time.
the Navy said in a communiqué.
The Navy's official contract notice also noted that the awards were not awarded through a "full and open" competition.
We are excited to continue this journey with our naval and industry partners. This gives us an excellent opportunity to apply the best practices and innovations of our experienced engineering team to the design of this important surface ship of the future.
Kari Wilkinson, president of Ingalls, said in a HII press release.
The DDG(X) is planned to replace the Arleigh Burke-class destroyers and Ticonderoga-class guided missile cruisers.
Bath Iron Works is committed to leveraging our cutting-edge engineering and design expertise, which is now being applied to the DDG 51 program for the next generation of large surface warships. The ability to work alongside HII and our industry partners to meet the Navy's needs for capability, schedule, and cost will result in synergies building on other hugely successful Navy construction programs.
Chuck Krug, president of BIW, said in a press release from his company.
Before that, the Navy revealed plans to use the combat system from Arleigh Burkes Flight III and the propulsion system from the Zumwalt-class destroyers for the future DDG(X). The Navy also wants to install a "directed energy" system and hypersonic weapons on a next-generation ship. Thus, some expensive hybrid of Zamwalt and Arleigh Burke should turn out with hypersonic missiles and laser weapons being developed.