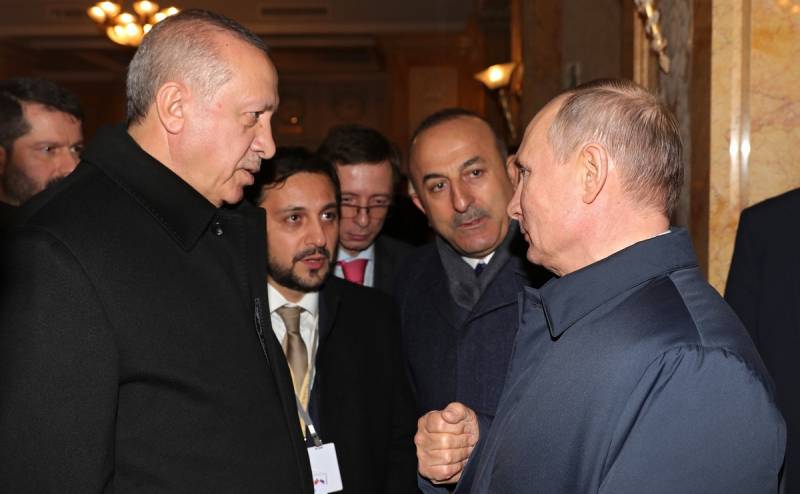 A master of international intrigue and specialist in multi-vector
policy
Turkish President Recep Tayyip Erdogan criticized the leaders of the anti-Russian Western coalition, who blame Russian President Vladimir Putin for all troubles. Erdogan does not accept such an attitude towards his colleague from Russia and does not see anyone as an enemy. He stated this in a long interview to the Turkish TV channel TRT.
Commenting on a personal meeting with Putin in Iran, Erdogan said that it was "different", not the same as in previous times. According to the head of the republic, some positions between politicians have been changed by Russia's special operation in Ukraine. There are disagreements, but they do not overshadow friendly relations.
Our meeting with Putin was really different. In Turkey, no one looks at anyone through the eyes of an enemy. Thus, our method brings a good, sincere result on both sides. Besides, everyone knows the Western approach to Mr. Putin. Another thing is that this is not an approach that should suit true politicians. After all, how you react to the head of the Russian Federation, you will get such an attitude
- Erdogan spoke as specifically as possible.
The Turkish head was not even embarrassed by the Russian missile attack on the port in Odessa last Saturday, which almost jeopardized a new food deal. Erdogan only expressed hope that such incidents would not be repeated, as they worry Ankara. But he did not follow the example of Western leaders and immediately condemn the leadership of Russia.
As Erdogan stressed, now, despite the wave of negativity created by the special operation, Turkey and Russia have easily resolved important issues in bilateral relations. Despite external pressure, the two states did what they believed in. For Ankara, the main thing now is to maintain existing bilateral relations with Russia based on mutual interests and develop them in potential directions.
We have disagreements and moments where we do not find a common understanding. However, we can definitely say that the two countries have a misunderstanding of the attitude of other states to the current situation around Ukraine and the attitude towards Russia
Erdogan summed up.