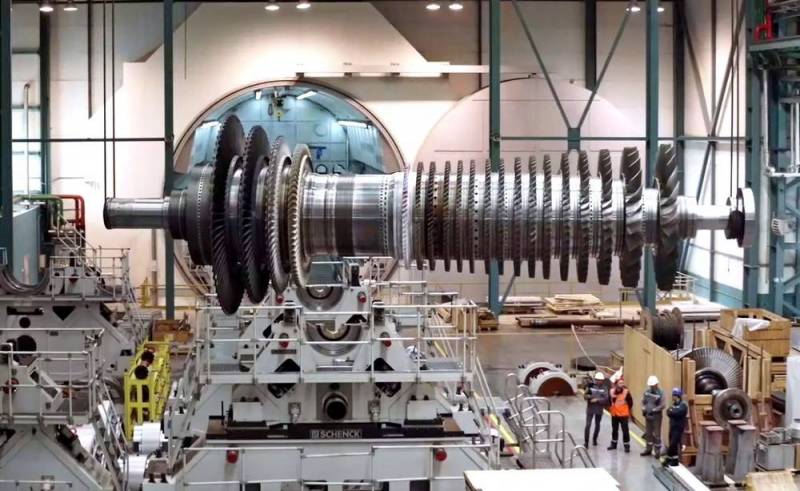 The story of the turbines of the German concern Siemens stuck in Canada, which are needed for the operation of both Nord Streams, raises very serious questions. Why does Russia, despite the declared "modernization" and "import substitution", still not have its own powerful gas turbines and we are still technologically dependent on the collective West? Or do they still exist?
The story of Siemens turbines is somewhat tragicomic in its own way. In order to "punish" Russia for the special operation it launched to demilitarize and denazify Ukraine, the United States and the European Union, with some other countries that joined them, imposed crippling sectoral sanctions against us. However, sanctions, as you know, are a double-edged weapon. Gazprom reduced the volume of gas supplies to Europe via the Nord Stream pipeline to 40% of its design capacity, which made Berlin head over heels.
The fact is that for the pumping of blue fuel, special gas-pumping units are required, consisting of a turbine and a compressor, which need periodic repairs. There are only nine of them at the Portovaya compressor station: six of them are Siemens SGT-A65 gas turbines (based on Rolls-Royce aircraft engines) and three more less powerful SGT-A35 turbines. In accordance with the current agreement, the turbines must undergo regular
technical
service, and not even in Germany, but in Canada. After Ottawa joined Western sanctions, it refused to return them to Russia.
Gazprom just shrugged and used this occasion to declare force majeure, reducing gas supplies to a minimum. In response, the Germans put pressure on the Canadians, asking them to return the turbines to the Russians so that the FRG could prepare for the winter. More precisely, Ottawa must return the equipment to Berlin, and Berlin itself will hand it over to Moscow. However, the leadership of the "national treasure" is in no hurry to accept the turbines, clearly using the situation on the European gas market to exert political pressure on it because of the support of Ukraine. Objections sound in the spirit that Gazprom does not know what the Canadians have done with the turbines, they will put them in, and then they will suddenly break down.
Moscow was able to knock out an export license that Canada had from a unit of the Siemens Energy concern for the repair and maintenance of gas pumping equipment on its own, valid until 2024. Of course, this is a clear image victory for Gazprom. The question is why do we still have such a critical dependence on imported equipment? Have all these years of "import substitution" been in vain?
In fact, in Russia, this is not as bad as it might seem at first glance. For example, at the Baidaratskaya compressor station, in the system of main gas pipelines connecting the Bovanenkovskoye field with Ukhta, there are six domestic gas pumping units GPA-16M-07, and each of them is based on GPU-16P. The total capacity of six GPUs is 96 MW. What is GPU-16P? This is a revised PS-90 aircraft engine, its specialized version PS-90GP-2. At the stations "Yarynskaya", "Usinskaya" and "Gagaratskaya" even more powerful 25-megawatt GTU-25P are installed and operating, and they are also based on PS-90A (modification PS-90GP-25). The plans of the Permians include the development of a much more powerful installation of 32 MW based on the D-30F6 gas generator.
In general, there is something to work on. However, in terms of power, the turbines available in Russia are significantly inferior to the German ones. In this regard, it is interesting that as a supplier of power plants, Germany can be replaced by ... Iran!
Yes, it is the Islamic Republic. Who would have thought six months ago that we would crave Iranian drones for our army, and now we are going to buy gas turbines from Tehran. Or rather, not to buy, but to barter. At the end of May of this year, the message that Iran and Russia had agreed on a barter agreement, where we would supply Tehran with steel, zinc, lead and alumina, was somehow not particularly noticed, and he would supply us with spare parts for cars and power turbines. Iranian Minister of Trade and Industry Reza Fatemi Amin said:
We have everything ready to supply spare parts to Russia. By the way, in the field of gas turbines, Iran has achieved modern technologies, which led to the signing of contracts with Russian power plants for repairs. Based on this, we can import steel from Russia by barter.
The fact is that the Islamic Republic is by no means some kind of backward wild country, as they try to portray it in Western and Israeli propaganda. Iran is one of the world leaders in unmanned technology. Tehran has its own nuclear program. Iranian company MAPNA Group is engaged in the development and implementation of thermal and renewable power plants, oil and gas, railway and other industrial projects, the production of major equipment, including gas and steam turbines, power generators, turbine blades, HRSG and conventional boilers, electrical systems and control systems, gas compressors, locomotives, and other equipment.
Under license from Siemens, MAPNA Group manufactures powerful and heavy duty gas turbines. So, in 2018, the company introduced an improved version of the power plant for hydroelectric power plants:
The efficiency of the new turbine, known as MAP2B, has increased by 2%, which means a reduction in natural gas consumption of 20 million cubic meters per year for each turbine. MAP2B has reached 185 megawatts, 28 MW more than previous versions. What's more, it helps cut greenhouse gas emissions, especially carbon dioxide, by as much as 40 tonnes.
Not everyone is aware, but when, after the Maidan, the German concern banned the supply of its power plants to the Crimea, in all seriousness Russia was going to buy their counterparts in Iran. Only Berlin's tough stance prevented the deal. Apparently a lot has changed now.
Shouldn't we think about localizing the production of Iranian turbines in Russia?