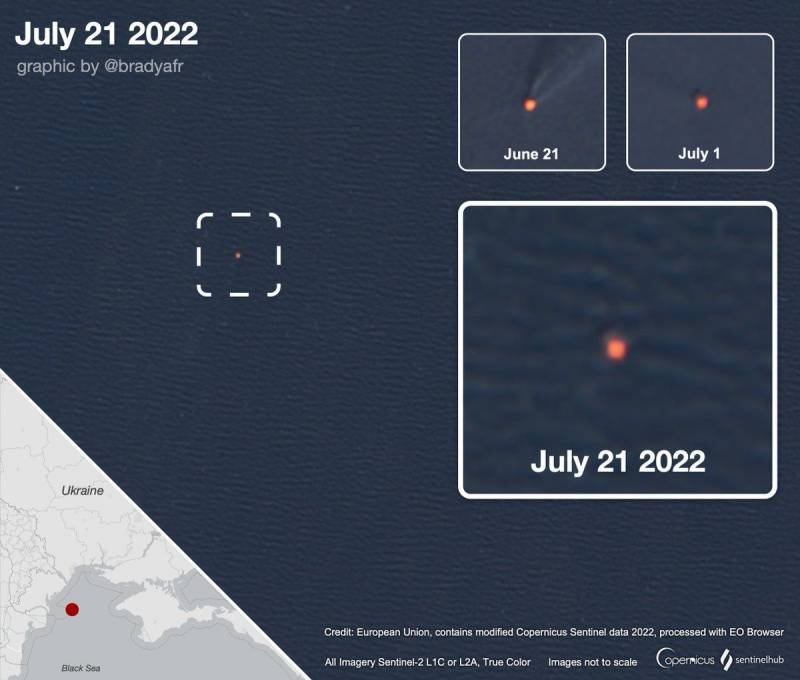 One of the drilling platforms in the Black Sea near Crimea, attacked by the Ukrainian armed forces on June 20, is still on fire. This, in particular, is indicated by satellite images taken on July 21. They clearly show the ignition in the area of ​​the drilling platform.
In addition, the data of the NASA Fire Information for Resource Management System (FIRMS), which monitors large-scale fires around the world, testify to the facts of the continuation of the fire at this facility.
A month ago, the Armed Forces of Ukraine attacked three Russian towers of Chornomorneftegaz located at the Odessa gas field. Burns and shrapnel wounds were received by five people out of 109 who were at that time on the towers. All facility personnel were evacuated. On June 26, Ukrainian units fired on oil rigs again.
In response to such acts of Ukraine, the Speaker of the Crimean Parliament, Vladimir Konstantinov, on the air of the Millet TV channel, noted that the Kyiv regime in its actions "slid into terrorism."
The head of the Russian Investigative Committee, Alexander Bastrykin, ordered to open a criminal case on the fact of the shelling of the platforms. Responsible persons promised to bring all those involved in this case to justice and punish them to the fullest extent of the law.