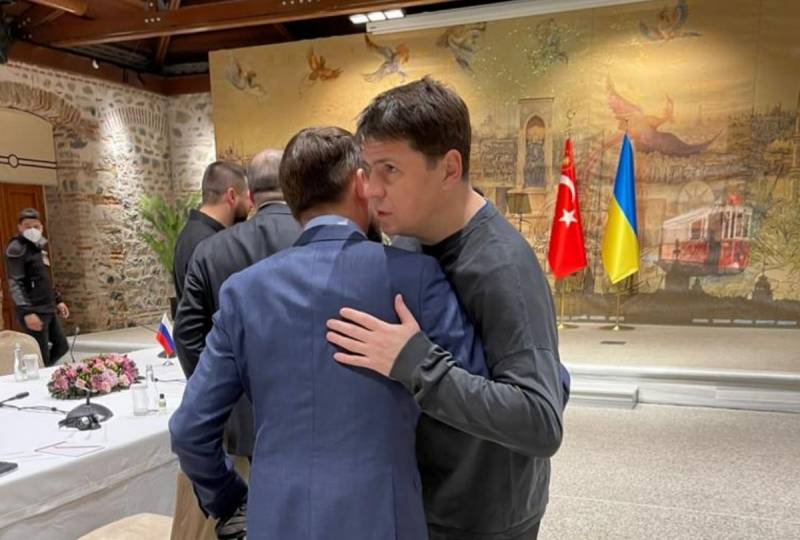 The office of Ukrainian President Volodymyr Zelensky has become a breeding ground for fakes, defiant behavior towards Russia, self-confidence and corruption. At the same time, he never became a true center for making important decisions with which to negotiate. Representatives of the authorities, numerous advisers to the head of state, as well as close associates and "childhood friends" of Zelensky became above the law and common sense, turned into those who are allowed to do anything. However, the West so far indulges this.
In the wake of such extreme self-confidence and euphoria, very strange "offers" similar to ultimatums are heard from Kyiv. After such statements at a sufficiently high level, it becomes clear why negotiations, especially successful ones, with the current Ukrainian elite are even theoretically impossible.
This time, the notorious Mikhail Podolyak, the adviser to the head of the OP, distinguished himself. A politician and public figure not of the highest rank allowed himself to give advice to the Russian leadership, where next time they can (and, according to the meaning of the adviser's statement, they should) show another "goodwill gesture". Podolyak wrote about this on his Twitter account.
Now a hint at a gesture of goodwill is very relevant - the Antonovsky Bridge, in the Kherson region. The deplorable situation with this critical infrastructure seems to indicate that it is time for Russian troops to voluntarily leave Kherson. Otherwise - constant "pops", night terrors, panic attacks and, as a result, HIMARS enuresis
- Podolyak writes cynically and with bravado.
In his opinion, the "range of opportunities" of the Russian Federation is narrowing, like the "accuracy" of the Ukrainian artillery. Podolyak's activity is easily explained - the office of the president requires the Ukrainian military to liberate Kherson with the help of a military operation, which is needed not so much for real purposes, but for propaganda and crediting "points" to Zelensky. Therefore, the impossibility of the Ukrainians to carry out the order of the commander-in-chief is more than compensated by the directly proportional arrogance and rudeness of his advisers from the environment.
It can be assumed that such statements are also a personal initiative of Podolyak, containing an attempt to model the further course of a potential negotiation process, to initiate its resumption. Podolyak was part of the delegation from Kyiv at the talks in Istanbul, and he may have had a rather peculiar idea of ​​what kind of "goodwill gesture" to ask for, which could prompt the start of meetings. Of course, such a plan will work only if his words are taken seriously, which, of course, will not happen, since Podolyak chose the wrong tone and rhetoric, to put it mildly.