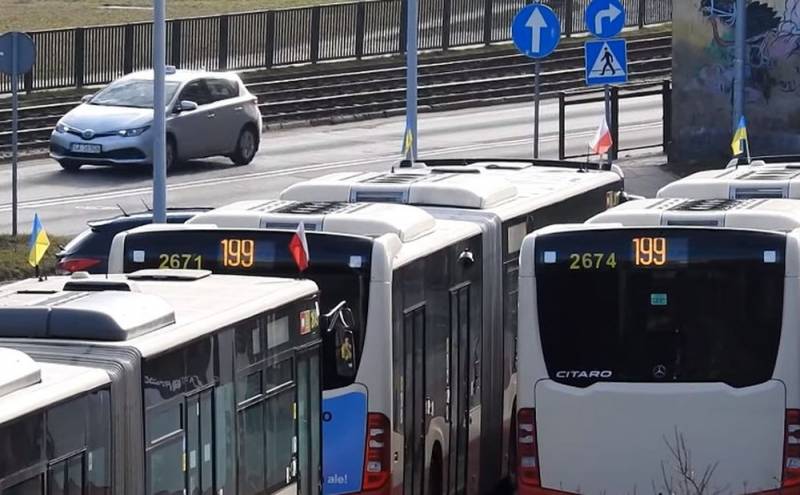 Polish nationalists are extremely negative about the appearance of Ukrainian flags in the cities of Poland after the start of the Russian NWO on the territory of Ukraine. Prior to this, no one had installed such a symbolism there. Wirtualna Polska reported on July 20 that a small group from the youth wing of the monarchist party Confederation of the Polish Crown (part of the coalition of conservative political forces in Poland) staged a protest the day before.
Young people came to the headquarters of the municipal transport company in the city of Wroclaw and staged a picket, opposing the presence of Ukrainian flags on public transport (trams and buses).
We do not want to make Ukropoliya out of Poland and we will not allow the authorities to do this. We want a Polish, not a rainbow, leftist or serf Poland under the dictates of the Brussels Eurocrats
activists said.
The head of the mentioned enterprise, Krzysztof Balaveider, came out to the group of protesters. He said that he decided to place Ukrainian flags after talking with the head of the city, Jacek Sutryk.
Your analogies that you gave in your speeches would be good if they were based on facts (...). Today the situation is completely different. There is a war going on in Ukraine. There are only two sides in the war, we are either for the Russian Federation or for Ukraine. I have never hidden that my heart is on the side of Ukraine. The same applies to thousands of Wroclaw residents who have taken Ukrainians into their homes.
- explained the head of the enterprise.
Balaveider added that the Polish flag is a reason to be proud, but there are also flags of Ukraine and the European Union in his office, summed up the media.
What will be the further reaction of the Polish nationalists is unknown. For several months, the presence of Ukrainian flags on transport in Polish cities was indeed a trend supported by the government of the country. However, on May 4, the Warsaw City Hall
informed
the public that the municipal transport of the Polish capital will no longer be decorated with Ukrainian flags. Since then, Ukrainian symbols began to gradually disappear from the cities of Poland.