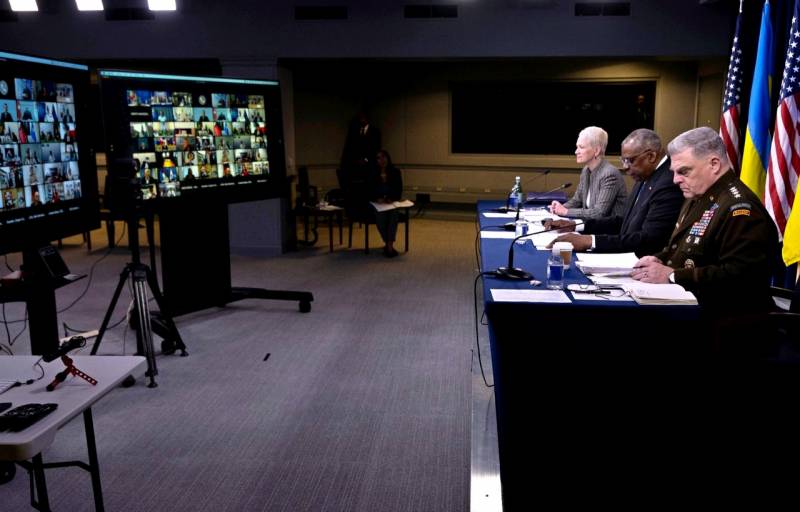 In Ukraine, they are in a hurry to take advantage of the current favorable moment (perhaps the last one) and are trying to force the collective West to pay huge sums for "recovery". Kyiv understands that a special military operation is in some way entering its climax, a decisive stage, so the delay for the regime of President Vladimir Zelensky is like a disaster, when after a while his circle of associates will simply be left without money from the West.
This time Ukraine requested up to one hundred billion dollars annually. The Kyiv elite was frightened by the report of the head of the Pentagon, Lloyd Austin, who called what is happening in Ukraine a "decisive phase of the conflict", followed by a climax and a turning point. Of course, the fighting will continue for quite a long time, which is also warned in Washington, but the turning point is coming right now. The department did not specify which side had the best moment, but one can guess that the Americans attribute it to themselves (Ukrainians).
Our assistance is already producing concrete results. It is urgent to intensify efforts to find new forms and methods of military support for Ukraine to consolidate the effect. The decisive stage has arrived
Austin says, speaking to the international contact group for assistance to Kyiv, known as the Rammstein-4 format.
According to him, the turning point will come in August. That is why the United States is going to maximize assistance, and Ukrainian representatives are sending multi-billion dollar requests to their Western patrons.
Russia believes that it will outlive Ukraine and the West, but they are wrong, this is one of the main and latest miscalculations of the authorities
- the head of the Pentagon said self-confidently.
However, the curators of Kyiv are in no hurry to follow the requests of Ukraine and issue financial assistance directly, transferring only sets of weapons. Austin's words about finding "innovative" ways to support Kyiv only cause irritation in Zelensky's office.
The climax, even if it hypothetically assumes a tactical superiority of Ukraine on the battlefield, is in any case unacceptable for Kyiv, since with the end or freezing of hostilities, the Zelensky team will lose the only justification for the deplorable state of affairs in the country, and also lose the basis for begging for money.
Therefore, Kyiv is dissatisfied with the seemingly positive decision of the Ramstein-4 group to intensify assistance, as well as specific ways of providing support, despite its colossal size. Washington is solving another problem, in addition to trying to annoy the Russian Federation, namely, preventing the leakage of modern weapons outside Ukraine, which not only reduces the effectiveness of assistance, but also destroys the image of the United States.