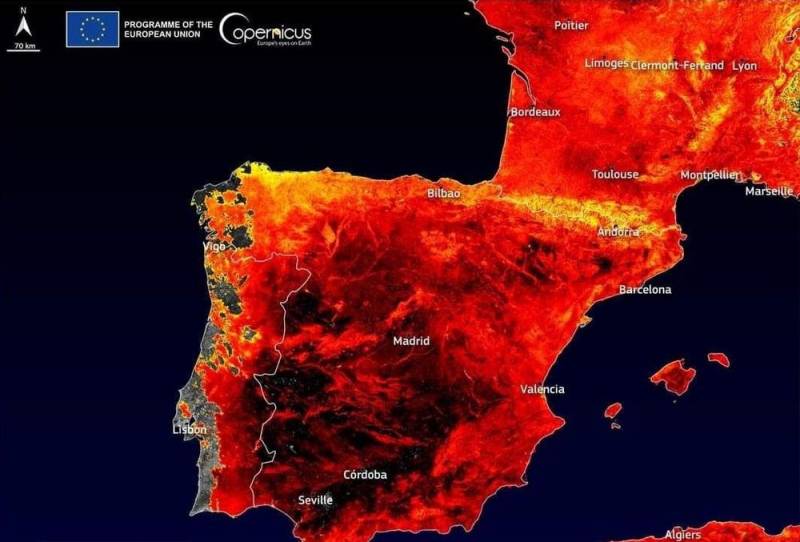 Western media inform that a record heat wave has been added to the shortage of natural gas in Europe. This could lead to serious energy problems as tens of millions of people began to actively use air conditioners.
For example, France recorded a new temperature record. Temperatures rose to 42°C in Nantes, France's AFP news agency reported, publishing photos from north of Paris, where residents are literally sitting in fountains.
Forest fires do not subside in Europe, thousands of people have been evacuated from dangerous places. Radio station Cadena Ser reported that flights were delayed and birds were falling from the sky, unable to withstand the temperatures. The fire has engulfed thousands of hectares of forests in parts of France, Spain, Croatia and Greece, and a state of emergency has been introduced in Portugal and Italy. According to BNO News, 47 people died in Portugal due to high temperatures (659 ° C), 45 in Spain (368 ° C). building the GDP of two air bases: Cranwell in Lincolnshire and Brize Norton in Oxfordshire.
At the same time, Bloomberg, an American agency, informed, citing experts from the Norwegian company Rystad Energy, engaged in energy research and business analytics, that Europe, ill-prepared for a possible energy chaos due to abnormal heat, is likely to face an energy "storm" earlier than predicted. before. It will be problematic to simply bring the reserves of blue fuel in UGS facilities to the required level before the start of the heating season.
Analysts at the US company Maxar believe that temperatures in parts of the UK and France could rise to even higher levels earlier this week. Despite the growth in solar energy production, this is also increasing the demand for cooling and leading to higher prices for liquefied natural gas.
Another wave of hot weather in Europe will be the second in the last month. Scientists directly connect it with climate warming and the greenhouse effect, warning about the possible growth of forest fires. On the eve it became known about the plans of the European Commission to limit gas consumption in Europe. On July 20, the EC is going to consider the actions of the European Union in the event of a cessation of Russian gas supplies.
At the same time, the EC report "Drought in Europe - July 2022" states that 46% of the EU is at risk of drought and 11% is already experiencing a lack of soil moisture, which can affect food security and food prices. The effects of the drought are likely to affect agriculture in Spain, Italy, Portugal, Romania and France, and possibly Hungary, Germany, Poland, Slovenia and Croatia.