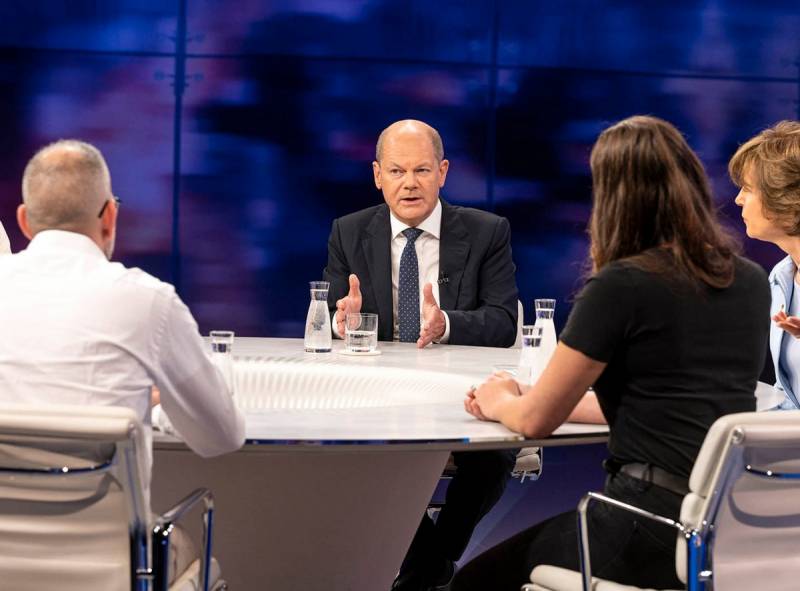 The flywheel of Russophobia in Europe is untwisted to its maximum speed. It is already obvious that the anti-Russian coalition is not going to back down or stop to seek a compromise. Reports that tough sanctions against the Russian Federation will not be lifted, even if peace reigns in Ukraine, come with enviable regularity. To justify such frank behavior of the West, an excuse was invented that any world would now be under pressure and allegedly "imposed" by the conditions of Russia. German Chancellor Olaf Scholz writes about this in a column for the German newspaper Frankfurter Allgemeine Zeitung.
According to the head of Germany, "the world is different," in other words, Berlin wants "prosperity for Ukraine", but on its own terms, not Moscow. Therefore, as the chancellor writes, the sanctions will not be lifted even if a peace agreement between Kyiv and Moscow is concluded. Thus, the federal head calls any peace in Ukraine a priori unacceptable, leaving for himself the loophole of naming it imposed.
Scholz is not at all concerned about the suffering of the Germans from high prices for fuel and utility bills, inflation and the rise in the cost of food, which happened due to the uncompromising struggle of the West (including Germany) with the Russian special operation in Ukraine. The Chancellor "is aware of these problems", but they are the result of confrontation and forced necessity. The head of Germany directly writes about this.
The fact that the sanctions were imposed for a long time was clear from the very beginning. Not a single restriction will be lifted if Russia imposes peace on Ukraine. This is a difficult test even for our developed country. We all need some serious endurance
Scholz writes in his article.
Chancellor is not a regular contributor to FAZ, so his article can be seen as an exceptional mission statement and vision for the future. The head of state directly outlined the time frame when sanctions against Russia, which hit harder on
the economy
EU, could be abolished. But, as follows from the statement, this period is not defined.
The thing is that the European Union is experiencing a real deep crisis in all sectors and spheres. If the energy crisis is largely man-made (although no less painful for that), then the crisis of ideology and worldview,
political
currents, parties, blocs, the ethno-cultural sphere can no longer be hidden. The conflict in Ukraine makes it possible to write off all the mistakes of the government, which is unwilling and unable to solve problems, to help Kyiv and the fight against Moscow, which the EU and the USA are trying to do with varying degrees of success.
In his article, Scholz bluntly admitted that any initiative of Moscow would be slandered as "imposed" only because, due to internal problems, the leadership is extremely afraid of Russia stopping the NWO in Ukraine, which justifies any actions of the authorities, any means and any resulting crisis.