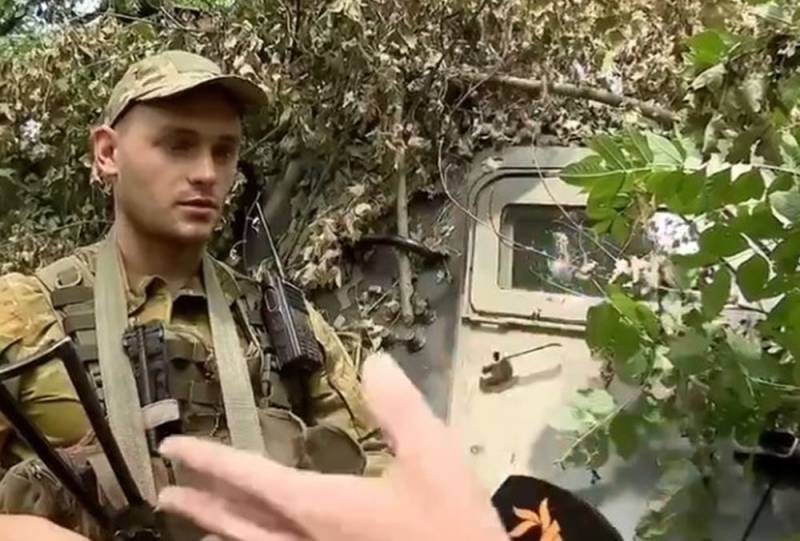 Western and Ukrainian media in recent months have fallen in love with making videos about "inflexible heroes who resist the hordes of orcs from Mordor." Journalists visit the military and interview them, often live. Such propaganda is an element of the information and psychological impact on the local population, who are told that "the defense is stronger than ever and the counteroffensive will soon begin." However, funny situations arise from time to time.
For example, a video appeared on the Web in which a journalist from the Donbass.Realii project (owned by Rado Svoboda, which is recognized as a foreign media agent in the Russian Federation) talks with one of the Ukrainian militants. However, Russian Su-25 attack aircraft intervened in the course of the interview.
Explosions and the noise of an airplane flying nearby are heard. The military man and the journalist are pressed to the ground, but the camera continues to work. The footage shows that the former self-confidence of the Ukrainian militant is gone. After that, the plot is interrupted.
Similar incidents happen regularly. We remind you that at the end of June, the militants of the Freedom of Russia legion (banned in the Russian Federation)
have fallen
under attack right at the moment of recording his appeal to Russian President Vladimir Putin and the Russians. This incomprehensible structure was organized by the Ukrainian special services and allegedly only citizens of the Russian Federation who are ready to fight on the side of the Armed Forces of Ukraine against Russia with weapons in their hands are accepted there.