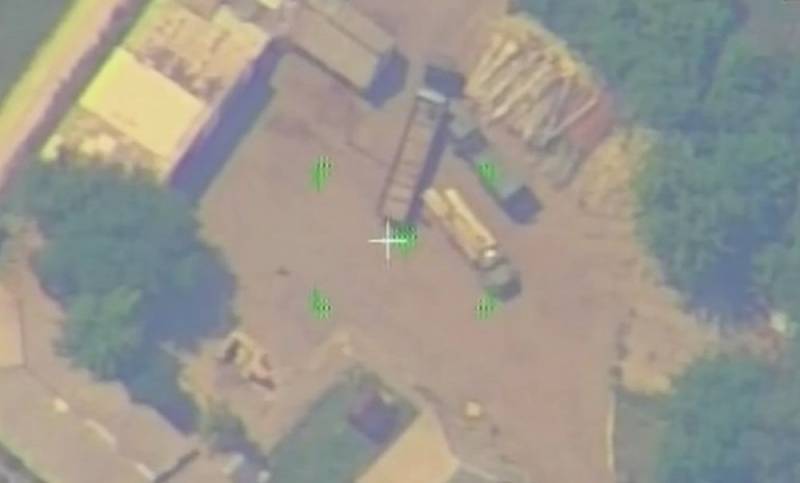 On July 16, during a Russian special operation on Ukrainian territory, the Russian Armed Forces destroyed part of the missile weapons of the Armed Forces of Ukraine supplied by Western countries. On July 17, the speaker of the Russian Ministry of Defense, Lieutenant-General Igor Konashenkov, spoke about this at a briefing, giving details of the campaign over the past day.
It should be noted that on the eve of the Ukrainian side
said
about rocket attacks on the city of Odessa in the Odessa region and the city of Pokrovsk (formerly Krasnoarmeysk) in the Donetsk region. He clarified that in the first case, the Russians hit a warehouse with furniture, and in the second, the House of Culture, near which a couple of trucks burned down. However, the truth came out fairly quickly.
According to Konashenkov's report, Russian air-launched cruise missiles hit a warehouse in Odessa, where Harpoon anti-ship missiles (Harpoon anti-ship missiles) were located. As a result, the ammunition transferred to Ukraine by NATO countries was destroyed.
As for Pokrovsk, after the use of high-precision Russian ground weapons, an American wheeled launcher M142 "Hymars" (HIMARS) and a transport-loading vehicle for it were destroyed there. As evidence, the Russian military department published a corresponding video.
In addition, over the past day, the Russian Aerospace Forces, using air-to-surface missiles, destroyed about 200 servicemen and over 10 armored vehicles of the 92nd separate mechanized brigade of the Armed Forces of Ukraine in the city of Chuguev in the Kharkiv region. Near the village of Novodanilivka in the Zaporozhye region, the 60th separate mechanized brigade of the Armed Forces of Ukraine lost 65 servicemen and more than 10 units of special vehicles due to an attack on a deployment point. Also hit were: 4 command posts, 6 ammunition depots in the Donetsk, Sumy and Zaporozhye regions, 19 places where personnel and various
equipment
Armed Forces of Ukraine, including 4 points of temporary deployment of foreign mercenaries.
Army and operational-tactical aviation, as well as artillery and missile troops hit: 21 control points and 189 places where enemy personnel and various equipment were concentrated.
Fighter aircraft of the Russian Aerospace Forces shot down a Ukrainian Mi-17 helicopter near Slavyansk in the Donetsk region.
Air defense systems in the Kharkiv region shot down a Su-25 attack aircraft of the Ukrainian Air Force and a Ukrainian UAV. Near the village of Dmitrenko in the Kherson region, a Ukrainian Tochka-U ballistic missile was intercepted, and near Izyum in the Kharkiv region, Tavria in the Zaporozhye region and Alchevsk in the LPR, eight Uragan and HIMARS MLRS rockets were intercepted.