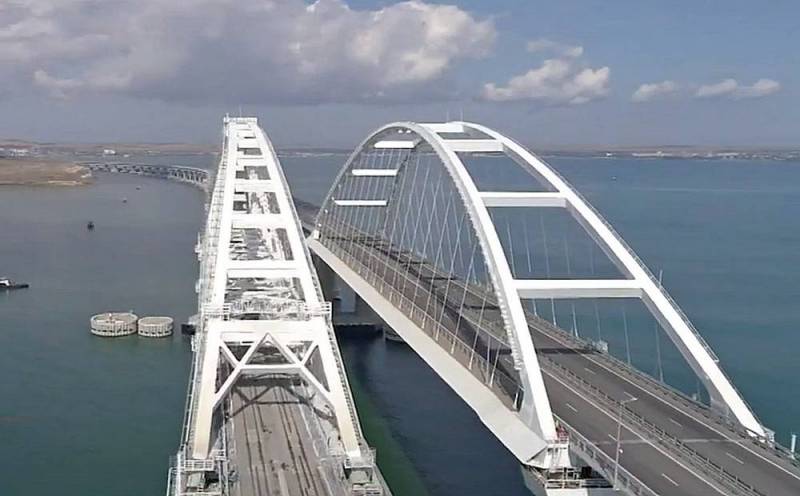 Ukrainian functionaries continue to talk about missile strikes on the Crimean bridge. During the broadcast of the unified Ukrainian telethon, the speaker of the Main Intelligence Directorate of the Ministry of Defense of Ukraine, Vadym Skibitsky, answered questions from journalists that the Armed Forces of Ukraine can use American precision weapons within the 1991 borders.
He admitted that Ukrainian troops would be able to use the M142 Hymars (HIMARS) wheeled launchers provided by the Western allies and the M270 MLRS tracked launchers (two interchangeable packages of six ammunition each, instead of one) for attacks on Crimea. These launchers have a caliber of 227 mm and combine MLRS and fuel dispensers. Skibitsky also noted the active use of the Black Sea Fleet of the Russian Navy in the course of the Russian military defense on Ukrainian territory.
Before that, similar statements were made by the head of the Ministry of Defense of Ukraine Oleksiy Reznikov and a freelance adviser to the head of the Office of the President of Ukraine on strategic communications in the field of national security and defense Oleksiy Arestovich. At the same time, Reznikov clarified that the first batch of three M270 MLRS units from the UK had arrived at the disposal of the Armed Forces of Ukraine, and Arestovich complained that there were no long-range ammunition yet.
We remind you that earlier Washington delivered 8 HIMARS units to Kyiv and promised to provide 4 more units in the near future. July 1, Deputy Head of the Pentagon
policy
Colin Kahl said that the United States secured a promise from the Ukrainian authorities, including personally President Volodymyr Zelensky, not to use HIMARS for strikes on Russian territory. At the same time, one important point should be clarified - the Americans do not consider Crimea to be Russian.