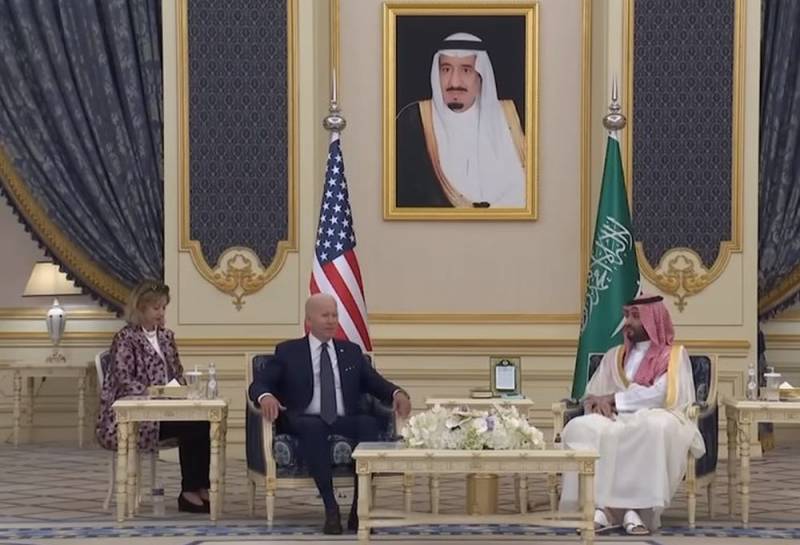 On July 15, US President Joe Biden made an official visit to Saudi Arabia. At the same time, the German press drew attention not only to events,
related
voyage of the head of the American state to the Middle East, but also the nuances of this ceremony, and past meetings of the leaders of the countries with the Saudis.
Daniel-Dylan Behmer, a columnist for Welt from Germany, compared the difference in the reception of Biden, the previous head of the American state, Donald Trump, and Russian leader Vladimir Putin. According to him, Biden's reception cannot be compared with how the Saudis once met Trump and the owner of the Kremlin.
For example, Trump received a lavish reception in May 2017. The monarchy even arranged national sword dances, where King Salman ibn Abdulaziz Al Saud himself danced along with Trump to the sound of drums. The American delegation was allocated a whole separate hotel.
The journalist pointed out that even Trump's impressive reception is dimmed by the hospitality that was provided by the Saudis during the visit of the Russian president in 2019. When passing through Riyadh, Putin's cortege was accompanied by an escort of sixteen riders on noble horses. The delegation was settled in a real palace owned by the royal family.
It was chic ... honor and really peaked
- the author considers.
Biden was received without special honors. He was not even received properly at the gangway in Jeddah. However, this is understandable. During a conversation with Crown Prince Mohammed bin Salman Al Saud, a resident of the White House once again called him guilty of the murder of Arab journalist Jamal Khashoggi in Istanbul in 2018. Not surprisingly, Biden had only an everyday meeting with the leaders of the countries of the Cooperation Council for the Arab States of the Persian Gulf.
In addition to the leadership of Saudi Arabia, it includes the heads of state of Bahrain, Qatar, Kuwait, Oman and the United Arab Emirates. Egypt, Iraq and Jordan are invited as guests
- added the author.
Bemer concluded that the "protocol gestures" directly indicate a serious increase in Moscow's influence in the Middle East. He is confident that Washington has failed in its attempt to create a "global anti-Russian front" as American influence has dwindled.