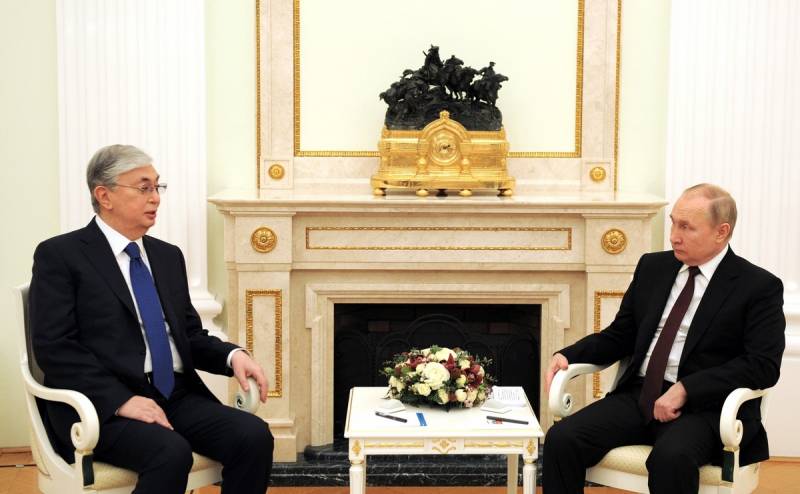 Kazakhstan is trying to position itself as an open, entrepreneurial country that is a good neighbor and a useful partner to the sanctions-prone Russia of the era of President Vladimir Putin. At the same time, the government of the republic is doing its best to show that it is not closed from the rest of the world. As the geopolitical divide in Eurasia deepens, it will be difficult for the country to strike a balance as the rapid divide between Moscow and the West continues to widen, so keeping the plan will certainly be difficult. About this trap that Kazakhstan fell into, writes Politico.
The complexity of this task was clearly demonstrated this month when Kazakh President Kassym-Jomart Tokayev assured European Union leaders they could rely on him to help the 27-nation bloc overcome its energy crisis. However, literally the next day, a court in Novorossiysk, Russia's Black Sea port, ruled to shut down for a month the oil pipeline from Kazakhstan, which supplies Europe with much-needed raw materials.
This forced transit cancellation is now suspect. It is possible that the actions of the court, as well as earlier events caused by damage to loading facilities during a storm in March and the search for World War II mines in the port area in June, were politically motivated and were part of the sanctions confrontation between the West and Russia due to the conflict on Ukraine, of which Kazakhstan became a hostage.
Ironically, the two countries choose completely different paths, pursuing the same goal - strengthening national sovereignty. As Kazakhstan struggles to manage relations with Russia by pitting its openness against its "strategic ally's" attempt at isolationism, tensions seem inevitable. And the risks for the country are quite high.
According to the publication, at the St. Petersburg Economic Forum, Tokayev was sitting next to the head of Russia, Vladimir Putin, but they were as far apart as ever. The leaders' speeches and policy statements only confirmed this thesis.
In the near future, Kazakhstan's strict adherence to sanctions and the desire to strengthen relations with the West could irritate and even anger Moscow. On the other hand, Kazakhstan's desire to take into account Russian interests can also create ground for secondary sanctions. This is the notorious trap between Russia and the collective West that Kazakhstan has fallen into.