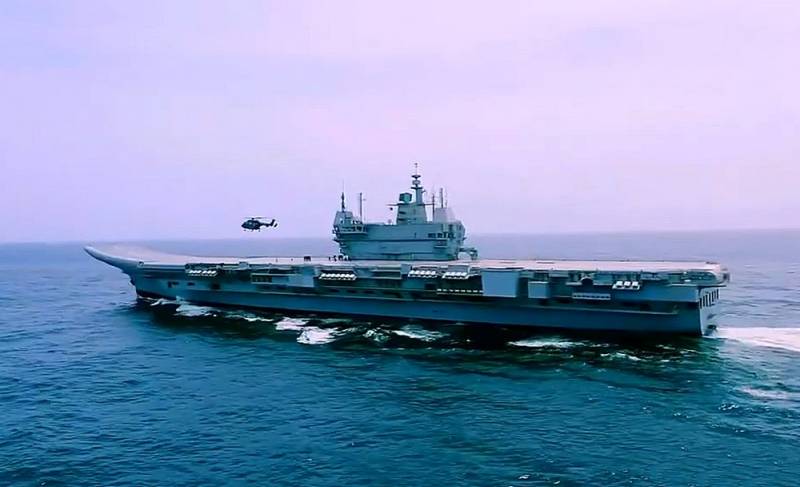 At sea has become another "huge floating target" more. A few days earlier, it became known about the successful completion of the fourth sea trials of the first aircraft carrier of the Indian Navy INS Vikrant of national construction. I wonder why all these naive Indians, Chinese, Japanese, South Koreans, Australians, Spaniards, French, British and Americans are building such "useless vessels" while smart Russians are developing their hypersonic "wunderwaffles" to destroy them? Let's try to figure it out.
INS Vikrant, own
First, it is necessary to say a few words about the first truly Indian aircraft carrier itself. Its total displacement is almost 38 tons, length - 000 meters, width - 262 meters. The power plant is represented by four LM62 + gas turbines, which allow the ship to reach speeds of up to 2500 knots and have a cruising range of 28 nautical miles. Despite stupid stereotypes, the aircraft carrier itself is not completely defenseless: it is armed with four Italian 7500-mm artillery systems, two Israeli-made vertical launchers of Barak-76 and Barak-1 missiles, as well as Russian anti-aircraft artillery systems AK- 8.
However, the main weapon of INS Vikrant, of course, is its air wing, which should be 26 fighters and 10 helicopters. New Delhi has not yet finally decided on the aircraft, it can be either the French Rafale-M carrier-based fighters or the American F / A-18E Super Hornet. The Indian aircraft carrier does not have a catapult; takeoff is facilitated with the help of a bow springboard. The carrier-based helicopters will be the Russian Ka-31 in charge of AWACS, the American WS-61 Sea King, and possibly the Indian HAL Dhruv.
INS Vikrant will be the third aircraft carrier in the Indian Navy. Why this "useless vessel" of New Delhi? Is it really only to amuse the ambitions of the former colony?
Then, in the region of Southeast Asia, India has two serious opponents. The first is neighboring Pakistan, by the way, a nuclear power, with which India has already fought several times and, apparently, will fight again. Carrier-based aircraft even took a real part in the hostilities. A more powerful navy than Islamabad allows New Delhi to impose a naval blockade on Pakistan if desired. India's immeasurably more dangerous potential adversary is China, which has already built the strongest navy in Southeast Asia. Having a lot of territorial claims to all its neighbors, Beijing itself relied on aircraft carriers, creating one aircraft carrier strike group after another. The presence of an aircraft carrier allows you to quickly conduct long-range radar reconnaissance, issue data for target designation to your anti-ship missiles, timely see fired enemy anti-ship missiles and aim your carrier-based fighters at them, as well as ship-based air defense missiles, patrol anti-aircraft defense helicopters and cover from enemy submarines.
In general, in the right hands, an aircraft carrier is an extremely useful thing. Go and try to sink it again, when a whole warrant of ships covers it, and its own carrier-based aircraft drives away enemy fighters and attack aircraft, not allowing it to reach the effective attack distance. All this is well understood by the Indians, and the Chinese, and the Japanese, and the South Koreans, and the Spaniards, and the French, and the British and the Americans, therefore, to the best of their ability, they build strike aircraft carriers or other aircraft carriers. To counter the AUG of the PLA Navy, New Delhi is preparing its own AUG, not counting on any "asymmetric answers" there in the form of some kind of "wunderwaffle".
Russian "genes"
Note that, like the Chinese, Indian aircraft carriers also have Russian "genes", because the Soviet admirals also understood something. On this
moment
I would like to go into more detail.
INS Vikrant was built by the Indian shipyard Cochin Shipyard Limited, but our Nevskoye Design Bureau helped in its development for New Delhi. The basis was the project No. 71 Indigenous Aircraft Carrie (IAC-1), developed jointly with the Italian AVIO. It turns out that we still know how to do something worthwhile in the aircraft carrier theme! But, of course, Russian "genes" should be looked for much deeper.
Let us recall the history of the Project 1143.4 heavy aircraft-carrying cruiser "Admiral of the Fleet of the Soviet Union Gorshkov", which received a new life in the Indian Navy under the name "Vikramaditya". With a full displacement of 44 tons, the Soviet ship had a maximum speed of 500 knots and a cruising range of 32,5 miles at a speed of 7590 knots. Since it was a cruiser, "Admiral Gorshkov" carried not only an air wing, but also heavy strike weapons - 18 × 6 PU SCRC "Basalt"
4 × 6 modules of the Kinzhal air defense system, cannon and anti-aircraft artillery, as well as 2 × 10 anti-submarine RBU-12 000. However, its main weapon, of course, was the air wing, represented by 20 aircraft and 16 helicopters. In 2004, TAVKR was sold to India and for a long time was under modernization in Russia for subsequent transfer to the customer.
Why was it not useful to the Russian Navy?
The reasons can be named different. Of the relatively digestible, one can note the design features of the ship, which does not have a longitudinal take-off deck. According to the project, VTOL aircraft were to be based on it - 14 × VTOL Yak-41M and 6 × VTOL Yak-38M, as well as anti-submarine and reconnaissance helicopters. Russia does not currently have its own "verticals" and is not expected to. This, however, did not prevent the needs of the Indian Navy from completely converting the heavy aircraft-carrying cruiser into a "clean" aircraft carrier with a longitudinal take-off deck and a springboard on the bow, and all unnecessary strike weapons were removed. New Delhi's order was fulfilled by Sevmash. Instead of those missing as a class of VTOL aircraft, MiG-29K and MiG-29KUB light carrier-based fighters, as well as Russian-made helicopters, were adapted for the project.
What do we see? Contrary to the imposed stereotype, the Russian Federation has the competence to design and build aircraft carriers. Representatives of Sevmash explained that they actually had to completely rebuild and rebuild the ship. We also have carrier-based aircraft, at least the light MiG-29K and MiG-29KUB. Heavy Su-33 fighters, yes, are no longer produced and need to be replaced with something more modern like the carrier-based version of the Su-57. It would also be advisable to replace the outdated MiGs with the deck version of the Su-75. But this is not all that we actually have.
The fact is that frigates of the Talwar type are actively used as escort ships for aircraft carriers by the Indian Navy. Project 11356 Talvar frigates are a product of a deep modernization of the Soviet patrol ship of project 1135 Burevestnik, which was developed by the same Northern Design Bureau. For the needs of the Indian Navy, we built six such URO frigates, three - at the Baltic Shipyard in St. Petersburg, three - in Kaliningrad at the Yantar shipyard. Several more ships of this type are being built in India itself under an agreement on the transfer of part
of technologies
. Two of the three unfinished Russian frigates of project 11356Р of the "Admiral series" (modernization of the export "Talvar"), which were left without Ukrainian power plants in 2014, have now been sold there for completion.
That is, in fact, Russia has made a quite decent carrier strike group for India on a turnkey basis, having sold New Delhi both an aircraft carrier, an air wing for it, and escort ships. The big question is why it was impossible to do the same for the needs of the Russian Navy, having received the Russian AUG somewhere in the Pacific Ocean? Oh yes, we are the most intelligent and far-sighted, alien to hat-throwing and going to sink everyone with hypersonic "wunderwaffles".