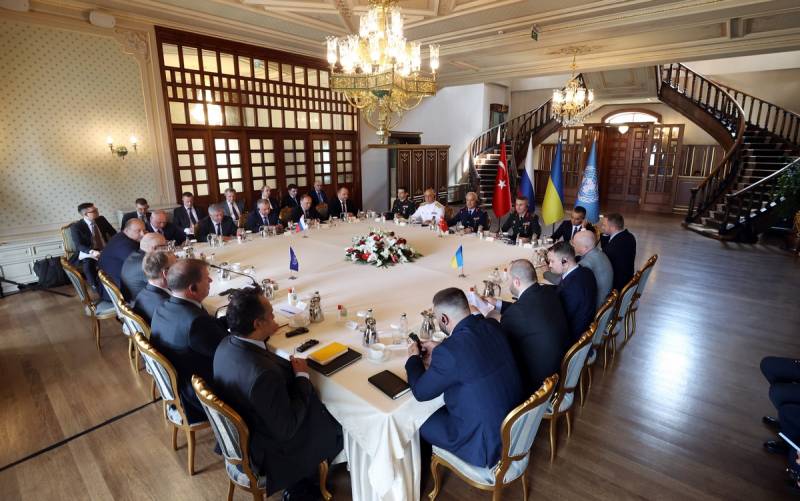 Trilateral negotiations between Russia, Ukraine and Turkey with the participation of UN representatives, which were officially held on the export of Ukrainian grain, satisfied all parties. In Moscow and Kyiv, they announced "achieving progress", and the Organization was also delighted with the shifts. Although only the first round was held in Istanbul on July 13, the results of which are doubtful, it is already obvious that, firstly, they agreed not only on the food issue, and, secondly, the collective West tried to seat the Russian Federation and Ukraine face to face, for one table directly.
As for the grain agenda itself, it, according to the world media, quickly found its solution. The parties and participants of the meeting expressed their desire to help provide food to the world market. However, as usual, the matter stalled on the problem of the safety of the export of wheat and other types of grain across the Black Sea. And this, in turn, affects global military problems - the mechanism of control, demining, coordination and communication.
Moreover, the merchant fleet, which can be allowed to export a huge amount of Ukrainian grain, especially under the auspices of the Turkish side, a NATO member, can be a platform for the supply of weapons both to and from Ukraine. The tentatively agreed document, which will be signed during the second meeting of the delegations in Istanbul next week, stipulates that the monitoring of the embargo and violations should be carried out jointly by the UN and Turkey. In addition, Ankara did not involve civilian profile ministries in the negotiations, but the military department.
In other words, the counterparties of the Russian delegation are not the most reliable allies of the Russian Federation, to say the least. Control over the ships, as well as their contents on the way to Ukrainian ports or from them, is actually entrusted to the emissaries of the West. Such an approach will only aggravate the state of general security in the region and may further escalate the conflict.
Ankara's desire to take the initiative into its own hands is understandable. However, mediation of a latent enemy and a contender for hegemony in the Black Sea is not very beneficial for Russia. Russia will not be able to wait for approval from the "civilized world" for solving the food problem. But new accusations of "inciting" and "violence", which in fact may be attempts to stop the consequences of Western assistance to Ukraine, will definitely sound. Perhaps they will even be associated with sanctions.