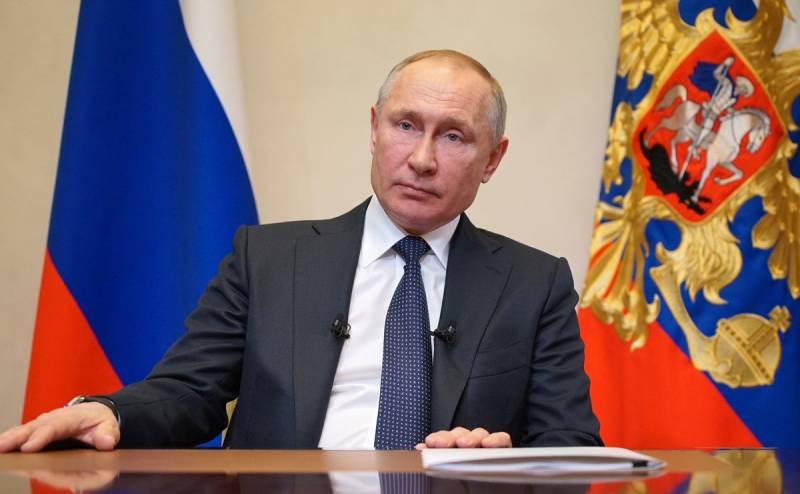 The view from the office of the head of Russia, Vladimir Putin, on the situation in the world today is generally characterized by a positive assessment of what is happening. The leader of the Russians is more confident than ever. It's time to think about the near future. In particular, if Putin wins the ongoing special operation, what will he do next? The answer to this question is given by University of Baltimore professor David Lingelbach.
According to an expert on Russia who lived in our country from 1994 to 1999, there is no viable alternative to Putin in Russia. At least in the short term. There is no one who, in the eyes of the Russian public, will make the Russian Federation stronger. Although, perhaps, from the chair of the President of Russia, the country still seems to be a rather "turbulent place," Lingelbach believes. But what's next?
The expert suggests that after the victory (end) in the special operation, Putin can take three steps. Firstly, this is a new military adventure, secondly, the creation of an alternative to the United Nations and, thirdly, the provision of an internal legacy.
Putin's next military campaign could be an operation in another neighboring country. It is unlikely that Moscow will choose to clash with NATO states such as Poland, Lithuania or Latvia, the latter of which has a significant Russian-speaking population. It is not a priority and obvious benefit for Putin to expand the Russian presence in Georgia or Moldova. Instead, in line with Putin's plans and intent to collect Russian lands, the next step could be in Kazakhstan, suggests Lingelbach.
Or perhaps Putin will want to go even further to build the architecture of the emerging new international order in his own image. The Kremlin sees the new organizational symbol as a replacement for the UN. This new organization can be founded and become central in Eurasia. BRICS, the CSTO, or even other structures may appear there (instead of the EAEU or in addition to it). The main thing is that they will have one "godfather" - Putin.
Another important step for Putin, according to the expert, will be to secure his internal legacy. The main emphasis here will be on choosing and carefully preparing a possible successor who could build on the achievements of the predecessor. The way Putin could preserve his domestic legacy is to create a new Russian capital beyond the Urals, further from perceived Western military threats and closer to the epicenter of Eurasia.
In whatever direction the Russian leader moves, it seems increasingly clear to him that Russia will eventually be able to declare victory in Ukraine. Out of confidence, Putin seems ready to move on, leaning towards the increased uncertainty in the world that his own actions have created.