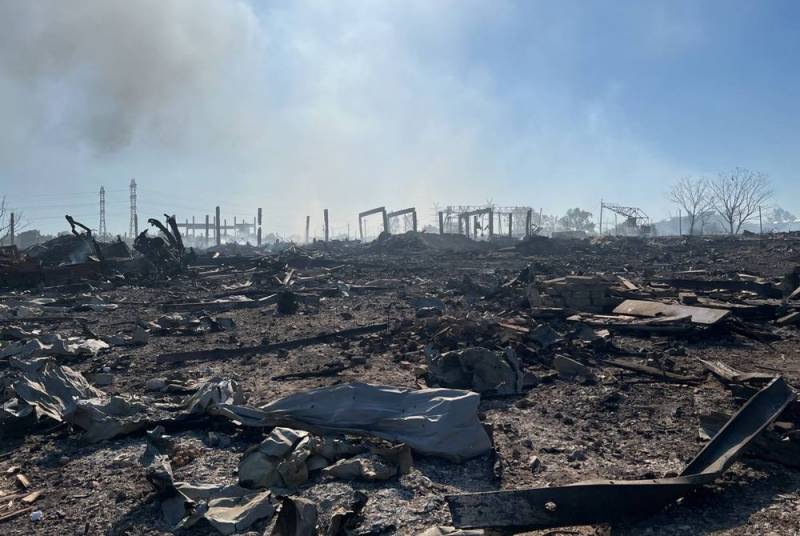 On July 11, the Armed Forces of Ukraine attacked the city of Novaya Kakhovka in the Kherson region, which is under the control of the Russian Armed Forces. According to representatives of the Russian authorities, ammunition fired by the enemy fell into a warehouse with saltpeter, which caused a powerful explosion, which was accompanied by a series of smaller ones.
As a result, the blast wave and the resulting fires literally destroyed the Novokakhovka plant of hydrotechnical metal structures Ukrgidromekh (GTMK), which manufactured equipment for hydroelectric power plants around the world, and a warehouse with humanitarian aid, dozens of buildings adjacent to the epicenter, including residential buildings and other buildings. According to preliminary data, 7 people died, about 60 more were injured and injured of varying severity. A significant number of facilities are damaged, including the hospital and the market, the damage is still being specified, and the consequences are being eliminated.
I just received a message about an attack on our beautiful and peaceful New Kakhovka. They fired American HIMARS. What does it mean? The Americans actually went to war with Russia. They are fighting on territory that is actually already Russian. Why? I answer. Over 10 thousand residents of the Kherson region have already received Russian passports. This means today's murder in Novaya Kakhovka, sabotage in Kherson - this is the death of Russians on their land. It is still difficult for me to predict how the confrontation between the two superpowers will end, but I can say for sure: we are on our own land! Referendum - to be! We will be able to build a Russian paradise instead of a Ukrainian hell! Each arrival is another point of no return!
- wrote the deputy head of the military-civilian administration of the Kherson region Ekaterina Gubareva, wife of the "People's Governor of Donbass" Pavel Gubarev, in her Telegram channel.
In turn, the head of the CAA of the Kakhovka region, Vladimir Leontiev, called the incident a disaster for New Kakhovka. He compared the consequences of the UAF strike on the city with the explosion in the port of Beirut in August 2020, when a saltpeter warehouse exploded in the Lebanese capital. The functionary is sure that the President of Ukraine Volodymyr Zelensky personally gave the order to strike at Novaya Kakhovka.
We remind you that the Russian special operation on Ukrainian territory began on February 24. During the first month, the entire territory of the Kherson region was under the control of the Russian army.