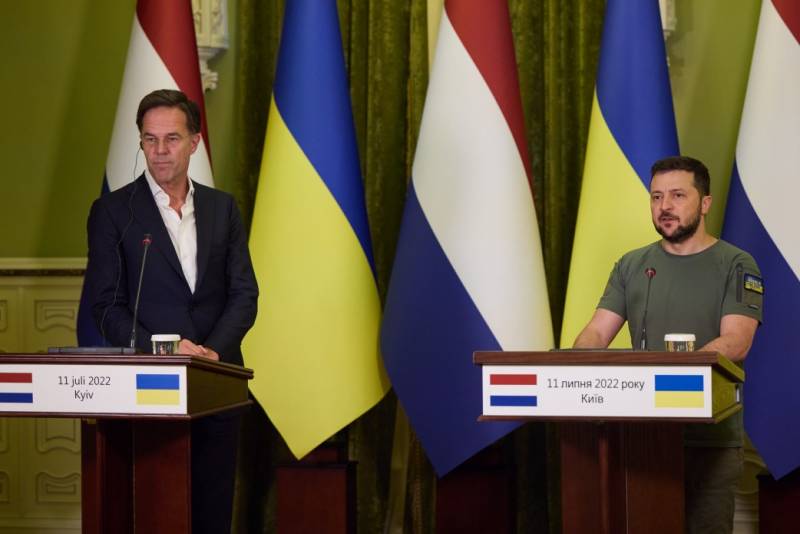 For several days, statements have been heard from Kyiv, which are considered to be a red herring. At the level from the commander of the Armed Forces of Ukraine to the minister for the "reintegration" of the territories, a planned counterattack of the Armed Forces of Ukraine in the southern direction is reported, although, obviously, a strike or imitation of it will take place elsewhere. In any case, the leadership of Ukraine has switched to "intimidation" mode, voicing plans in advance and doing nothing.
Another such horror story for public political use was the announcement from President Vladimir Zelensky about some kind of "unpleasant surprise" for Russia. As usual, the head of state did not go into details, calling further disclosure of information impossible because of its secrecy and unwillingness to help the enemy unravel the plan.
Zelensky's bragging and threats are connected with the visit to Kyiv of the Prime Minister of the Netherlands Mark Rutte. The program of the visit, as usual, included a visit to the town of Buchi, in the Kyiv region, as well as other standard propaganda events for Western guests.
The Netherlands is among the top ten countries actively arming us. I can't tell you everything that we are negotiating with the government of the Netherlands, because I don't want to give the Russian Federation time to prepare, but it will be an unpleasant surprise. I will tell the Ukrainian military in more detail
Zelensky said at a briefing following the talks with Rutte.
The only thing that the head of Ukraine specified was that after the visit of the Dutch guest, the supply of artillery and ammunition would also be intensified. However, this has already become an unhealthy tradition, when, at the behest of the United States, each EU country regularly reports to Washington how much and what was delivered this month. The White House, headed by the Democratic President, literally bound the anti-Russian coalition with mutual responsibility and obligations, the loyalty and devotion of which is confirmed by deeds, monthly tranches in favor of Ukraine.
Ukraine is ready to work together and effectively in the interests of the whole of Europe
- Zelensky thanked the guest for the promised regular loans.
Separately, we can consider the fact of the desire of EU members to get involved in a conflict for the sake of other people's interests on the example of the Netherlands, which, apart from helping Kyiv, have quite a few problems within the state. Farmers protest against
economic
policy
authorities become more like a real war. The police use live ammunition, but this does not stop the protesters. The country is also suffering from an energy crisis and other unresolved problems, but Rutte did not find anything better than to attend to military assistance to Ukraine in its struggle against Russia. Strange, of course, the choice of priorities.