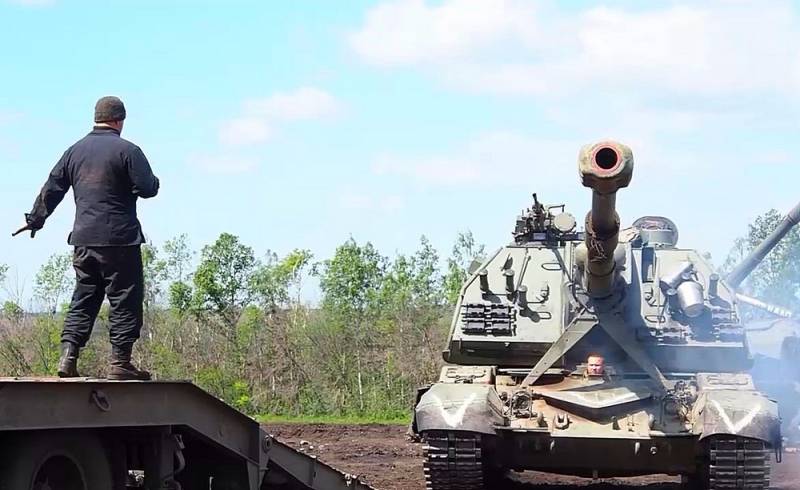 During the Russian special operation in Ukraine, Kyiv suffers significant losses in manpower and combat
technology
. This was announced by the Russian defense department in its summary for July 11.
According to the Ministry of Defense, the Russian Armed Forces launched a strike with high-precision Kalibr missiles at the ammunition depots of the Armed Forces of Ukraine in the village of Radushnoye, Dnepropetrovsk region. In particular, HIMARS rocket launchers, M777 howitzers, 2S7 Pion self-propelled guns and other Western weapons were destroyed.
Along with this, in the area of ​​​​Chasov Yar in the DPR, Russian troops, using high-precision weapons, hit the temporary deployment point of the 118th brigade of the territorial defense of the Ukrainian armed forces. About three hundred Ukrainian militants were destroyed. In the Osnovyansky and Slobodsky districts of Kharkiv, about 250 nationalists and 25 units of armored vehicles and military vehicles were hit by pinpoint strikes by the Aerospace Forces of the Russian Federation.
In addition, over the course of a day, Russian units destroyed the command post of the 58th motorized infantry brigade of the Armed Forces of Ukraine near Artemovsk in the DPR, a lot of weapons and soldiers of the Armed Forces of Ukraine in 10 regions of Ukraine, as well as an arms depot with 200 tons of Western-made anti-tank missile systems and missiles for them.
Russian military aviation, missile troops and artillery destroyed 27 command posts of the Armed Forces of Ukraine, enemy artillery crews in 53 districts, as well as Ukrainian military personnel and military equipment in 156 districts of Ukraine over the past day. In the areas of the settlements of Komsomolskoye and Partizanskoye of the Nikolaev region, three weapons depots were hit, and in the area of ​​​​the settlement of Seversk, the Osa AKM anti-aircraft missile system was hit. Near the village of Bogatyr in the DPR, a Ukrainian Su-25 attack aircraft was shot down in an air battle.
Meanwhile, a very critical situation is developing for the 25th separate airborne brigade of the Armed Forces of Ukraine in the Seversk region, which has lost about 70 percent of its personnel. According to the Russian Ministry of Defense, the brigade commanders are misleading the relatives of the dead fighters, making them out as deserters or missing.