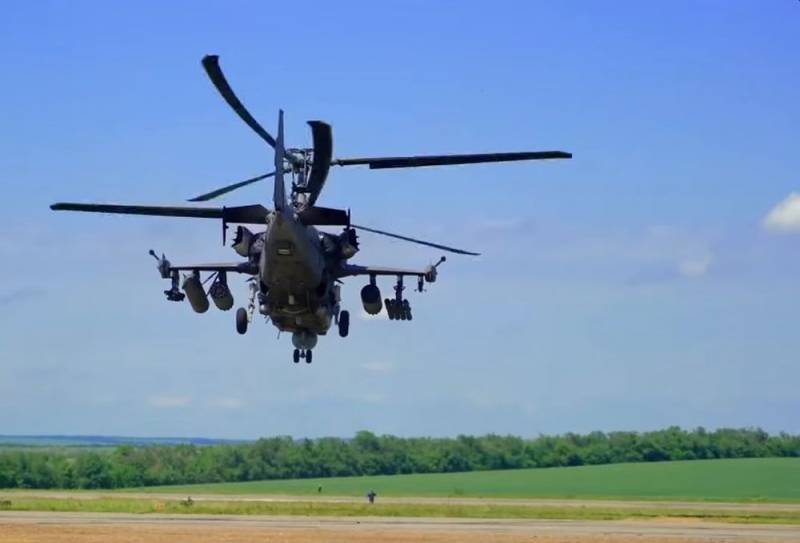 Footage has appeared on the web showing the use of the Vikhr-1 airborne anti-tank guided missile fired by the Ka-52 Alligator reconnaissance and attack helicopter of the Russian army aviation during a Russian special operation on Ukrainian territory. The video of the exact defeat of armored vehicles of the Armed Forces of Ukraine was published on July 10 by the Zvezdanews Telegram channel - the official page of the Zvezda TV channel.
The video shows how, after the launch, an ATGM, directed from a distance of 7,5 km, accurately hits a Ukrainian armored personnel carrier. The destruction of the armored personnel carrier of the Armed Forces of Ukraine was confirmed by means of objective control.
7500 start
- says the voice-over.
Okay, let's go
– clarifies the second voice-over.
Then, against the backdrop of a burning armored personnel carrier, the pilot drives the rotorcraft to turn around.
At the same time, the communique of the Russian military department explains that Ka-52 helicopters are searching for command posts, fortified positions and armored vehicles of the Armed Forces of Ukraine, after which they destroy them.
It should be added that the modified ammunition 9M127-1 "Whirlwind-1" has a length of 2,75 m and weighs 45 kg (tandem cumulative fragmentation warhead 8-12 kg). It is part of the 9K121M Vikhr-M anti-tank missile system. The ammunition has a laser guidance system with automatic target tracking and can be used at a distance of up to 8 km, with an average flight speed of up to 600 m/s. In 2021, tests of the Vikhr-1 missile began at a range of up to 10 km, and work began on increasing the range of ammunition to 12 km and adapting it to the Orion UAV and the Mi-35M helicopter.