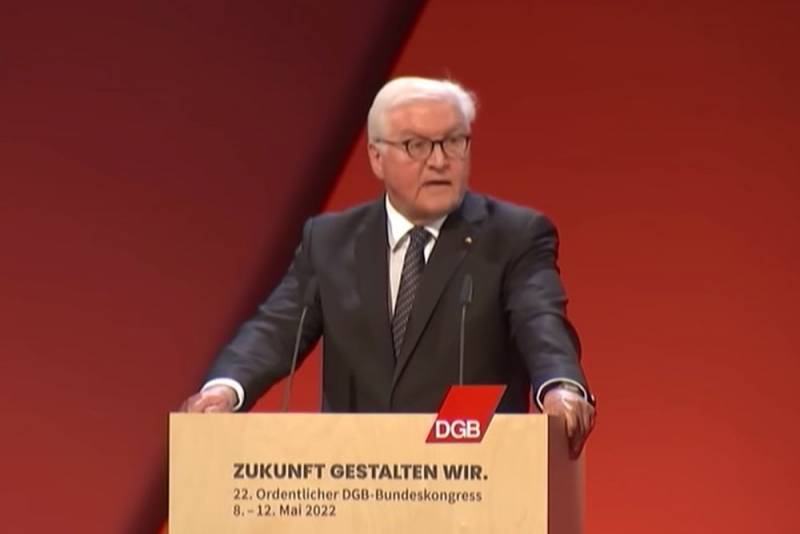 Berlin continues to show its dissatisfaction with Kyiv. Recently, most of the Bundestag deputies refused to even discuss the issue of transferring 200 Fuchs armored personnel carriers to Ukraine, considering it a robbery of the Bundeswehr. Now it has become known that German President Frank-Walter Steinmeier demanded an explanation from his Ukrainian counterpart for the cancellation of his visit to Kyiv, writes the German magazine Der Spiegel.
The publication notes, citing its sources, that we are talking about the trip of one of the authors of the peace settlement plan in Donbas, which was supposed to take place on April 12, but was canceled by the Ukrainian side without clear explanations. The Ukrainian authorities then canceled the arrival of the German functionary, citing "logistical difficulties and security problems," although at that time there was a pilgrimage of representatives of Western countries to Kyiv.
Then Steinmeier said that Kyiv probably considered his visit undesirable. He was going to visit the Ukrainian capital together with the presidents of Poland, Latvia, Lithuania and Estonia, but the Ukrainian authorities felt that his visit would be more "acceptable" and "meaningful" if it was a solitary one. In Berlin it
regarded
as an unfriendly, annoying and insulting act, after which the supply of weapons to the Armed Forces of Ukraine was sharply reduced.
On May 5, a telephone conversation took place between Steinmeier and Zelensky, which lasted 45 minutes. During the conversation, Zelensky invited Steinmeier to come to Kyiv on May 8, but he refused, since on that date his schedule included a visit to him by the head of the Bundestag, Berbel Bas.
After that, Steinmeier demanded an apology and explanation from Zelensky, i.e. he did not tolerate public humiliation. The German president wanted to know what were the real reasons for the sudden cancellation of his previous visit before scheduling a new one, and whether it was advisable in principle. The publication did not give details of the answer of the Ukrainian leader, however, it is known that the date of the visit of the President of Germany to Ukraine has not been determined so far.