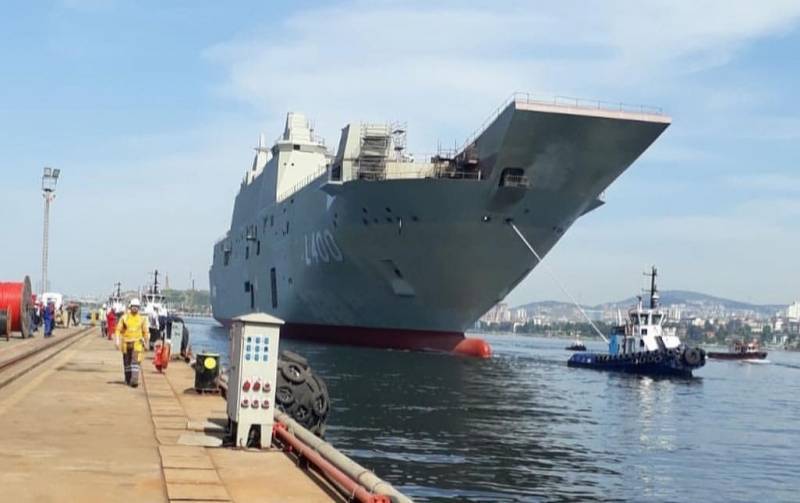 Probably, no topic causes such fierce verbal battles in Runet as the question of the need or uselessness of the Russian Navy aircraft carriers, by which in this publication we will mean both "classic" aircraft carriers and UDC, from which helicopters can take off and land, UAV and SKVVP. The special military operation in Ukraine, or rather, its part, taking place on the Black Sea, showed that the Russian navy has a lot of problems, but the conclusions from them are somehow diametrically opposed.
For many years they stubbornly tried to convince us that Russia is an exclusively continental power, which does not particularly need not only some aircraft carriers, but even an ocean fleet. Say, with whom are you seriously going to fight at sea there, and what kind of landings to land? Not in the steppes of Ukraine, really? Haha...
Here it would be to laugh now, but for some reason it is not at all funny. It turns out that a naval landing near Odessa would be very useful during a special military operation, but in fact we have nothing to carry it out with. About what such a landing operation should look like, we talked in general terms in
article
dated March 7, 2022 under the title "What the Russian Navy lacks for a successful naval landing near Odessa". We quite rightly pointed out that for this it is necessary to continuously monitor everything that happens on the Ukrainian coast and in its sky by AWACS aircraft and helicopters, and Russian aviation must turn the landing zone into a kind of lunar landscape and dominate the air. Landing should first be carried out in the safest possible way over the horizon with UDC, and only then should large landing ships be stuck into the shore, continuously covered from the air by fighters and attack helicopters.
This is approximately how it should be, and, alas, nothing like the Russian Navy can now objectively be carried out due to the physical absence of carrier-based AWACS aircraft, catapult aircraft carriers for their launch and UDC as classes. The statement of this fact caused a whole storm of angry comments from readers, who, of course, always know better. After the tragic death in the Black Sea of ​​the Saratov large landing ship, the Moskva missile cruiser and the Vasily Bekh tugboat, opponents of large and aircraft carriers, in particular, ships, for some reason decided that they were right, and it was not at all a matter of a weak naval air defense system. basing, the shortage of combat-ready surface ships for escort and the lack of air cover and reconnaissance. They say that enemy anti-ship missiles themselves will "bounce" from small boats without harming them, or even completely miss due to their size. Yes, it sounds ridiculous, but such ideas, unfortunately, are being promoted in all seriousness.
But back to the topic of large-tonnage warships. A few days ago, all the mainstream media talked about how the Turkish Navy finally received its first universal amphibious assault ship Anadolu.
Posted by
about this and Roman Skomorokhov, known for his principled "aircraft phobia", surprisingly, in a very complimentary form. Let us take the liberty of quoting a respected colleague from the Military Review portal in support of:
Why UDC is needed at all has been said more than once. The first wave of landings on the territory of the enemy, which, so to speak, does not have impressive means of defense. A group of ships, which includes UDC, approaches the shore, scatters the enemy forces on the shore and begins landing. Cover ships, attack helicopters and aircraft assist in the landings. Everything is simple…
But such landings are still rare, but the visit of an order from 1-2 UDC and several frigates and escort minesweepers near Odessa in our time would look more than justified. Plus, of course, cover planes from the Crimean airfields. Here we would have an operation in which the UDC would be revealed in full, because these ships are capable of landing a decent mass of troops in a short period of time and
equipment
in the specified area.
Well, you must! And it was completely unusual to read further, since colleague Skomorokhov wrote that some 12 stealth fifth-generation F-35B fighters on the deck of the Turkish UDC "would come to court even with a possible showdown with Russia." Those times ... It turns out that there are still benefits from carrier-based aviation! A colleague rightly noted that the combat radius of an aircraft with a short takeoff and vertical landing is an impressive 800 kilometers, which is less than that of a conventional horizontal takeoff fighter, but allows it to operate effectively beyond the range of coastal-based anti-ship missiles. The hint at the tragic fate of "Moscow" is extremely transparent.
Roman Skomorokhov ends his article entitled "Drone carrier: aircraft carrier laughter and tears in Turkish" with the conclusion that "we have, it turns out, where to use such a ship as the UDC", which in itself is the reason for their creation. Obviously, with great difficulty, the colleague resisted the call to rush to the creation of vertical take-off and landing aircraft, limiting himself to helicopters for the time being. For a journalist who has written many articles denying the need for large-tonnage aircraft-carrying ships for the Russian Navy, this is, without jokes, a real breakthrough. Recognition of one's delusions is a real male act, which is worth a lot, without any irony.
For the author of these lines, the "catharsis" experienced by a respected colleague is all the more important because, about a year ago, he, as it seemed to him, "broke apart" one of the articles published on Reporter.
Article
- "exposure" was called "What can we do in modern Russia?", And there were a lot of distortions and frankly personal attacks, like:
So Mr. Marzhetsky, although on paper, is rather mediocre enough to send Russian citizens to death. Well, he doesn't like them, apparently.
As for "departure to death" - this is what the author of the lines repeatedly and consistently called for to provide Russian sailors with aircraft carriers for air cover, reconnaissance and target designation. In his opinion, it is precisely the high level of security of a full-fledged AUG and its ability to "snarl" that is the main guarantee of the security of Russian citizens, discouraging the desire to fight with it. What can not be said about the "mosquito fleet", which does not really have either air defense or anti-aircraft defense.
It is gratifying that confusion and vacillation finally began in the camp of "aircraft carriers", which was clearly facilitated by the ambiguous results of the Russian Navy in the Black Sea. Does this mean that you need to stop building aircraft carriers and UDC right now?
No, our priorities should be somewhat different. First you need to protect the near sea zone, for which you need a lot of PLO corvettes and frigates, as well as naval aviation. In addition, an aircraft carrier or UDC without an escort warrant is defenseless, this fact is beyond doubt. We are building ships, alas, for too long, so it makes sense to order a large batch of PLO corvettes and frigates in the PRC, which we discuss in detail
told
previously. It will be possible to increase the number of ships of this class to the required level in just 3-5 years. We ourselves should focus on the production of modern URO project 22350 and 22350M frigates, which will become the main "workhorses" of the Russian Navy in the far sea and ocean zones.
In addition to the two project 23900 UDCs being slowly built at the Zaliv plant in Kerch, it may be advisable to order a series of 1-2 Type-075 amphibious assault ships in the export version from the PRC. Surely the Chinese will cope even faster than the Crimeans, and these UDCs should be transferred to the Pacific Fleet of the Russian Federation in order to strengthen its capabilities to counter the Japan Maritime Self-Defense Forces. For the maintenance of such large-capacity vessels, it will be necessary to build the appropriate coastal infrastructure. And only then it makes sense to lay in Nikolaev (God willing, it will still become part of Russia) a series of 3-4 full-fledged aircraft carriers equipped with catapults and horizontal takeoff and landing fighters.
I would very much like to hope that the right conclusions will be drawn from the problems of the Russian Navy not only by fellow journalists, but also by decision-makers.