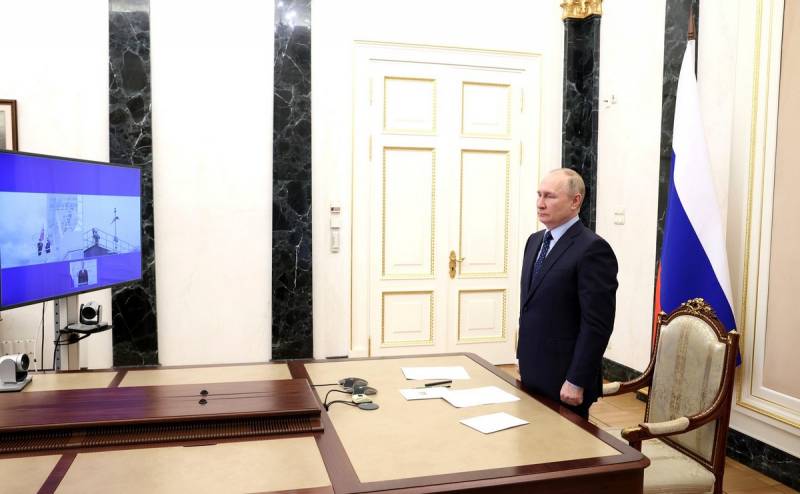 In any speech, the head of Russia, Vladimir Putin, always addresses two addressees: the people of the Russian Federation and the West. After the recent G7 and G20 summits, it became clear that the West, by itself, has isolated itself, while the rest of the world and Russia are structures much larger than the first unification. Sensing this, Putin delivered an angry, if uplifting speech for Russians, detailing the trap for the West. This is written by the correspondent of the German edition of Focus Ulrich Reitz.
According to the observer, Putin's confidence rests on three trump cards. Setting an unpleasant trap with "poisoned" baits, the leader of the Russian Federation counted on them. These three levers of influence allow Moscow to maintain a tactical advantage over the collective anti-Russian coalition.
According to Reitz, the Kremlin's trump cards are reliable foreign partners, an energy "needle" for Europe, as well as blackmail by peaceful negotiations.
Obviously, the first trump card is undeniable - the international isolation of Russia has failed. Large and important states of the world (China, India, Brazil, others) support Moscow, even if from a purely
economic
considerations, but this is enough not to join the sanctions against the Russian Federation. That is why the G20 summit failed, which showed that not everyone considers Moscow to be to blame for the crisis in Ukraine. If we add to this list such an active country in the international arena as Turkey, then Western efforts to limit the Russian Federation will seem ridiculous.
No less obvious is Europe's dependence on energy supplies from the Russian Federation, and not only Russia's dependence on hydrocarbon exports. Moreover, the ties are so close that the Kremlin has a lever to easily put pressure on Brussels and say that the problems of Nord Stream can be solved by ... Nord Stream 2! Isn't such a logical chain a reason not to launch the first highway going for a "scheduled" repair?
And of course, Putin is always talking about peace. In his understanding, Russia will never refuse negotiations. However, according to Reitz, negotiations in the understanding of Moscow are a lure. However, this does not mean at all that it will not be swallowed up in Germany at some point.
My personal experience shows that not only oppositionists from the AfD are in favor of peace and negotiations, or East Germans, but even professors and some companies who care about their wealth and prosperity
- writes the browser.
Putin has a chance to push through his position. Chancellor Olaf Scholz said that Berlin will support Kyiv for as long as necessary. However, the federal head immediately backed off, marking the boundaries, saying that the activities of the government are due to the desires of the people. His aspirations are described above based on personal conversations. So, most likely, it will not be long to wait for a change in the point of view of Germany.