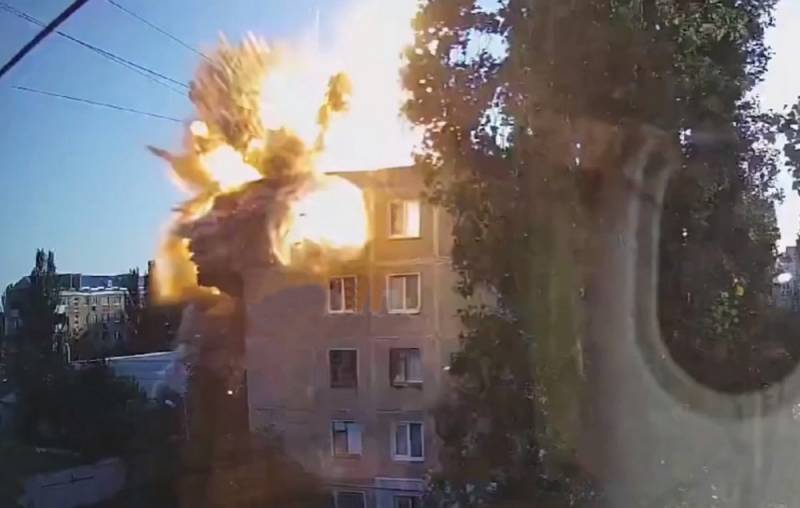 On June 29, a rocket attack was carried out on a residential building in the city of Nikolaev. The authorities tried to pass off the incident as the arrival of the Russian Kalibr missile, but the facts expose the propaganda of the Ukrainian authorities.
The head of the Nikolaev regional administration, Vitaly Kim, published a video of a rocket strike on a residential building on his social networks and noted that six people were killed as a result of this hit. Meanwhile, careful viewing of the video allows us to state with 100% certainty that it was not a Caliber, but a 9m38m1 missile from the Buk-M1 air defense system of the Ukrainian armed forces.
Previously, anti-aircraft missiles of Ukrainian troops have already hit residential buildings. So, on February 26, the missile of the Buk air defense system
struck
22-storey residential building on Lobanovsky Avenue in Kyiv. Luckily, no one died then.
Thus, Ukrainian anti-aircraft missiles continue to kill innocent people. We remind you that in 2014, the Ukrainian Buk-M1 air defense missile system shot down an airliner with passengers in the sky over the Donbass, flying on the MH17 flight on the Amsterdam-Kuala Lumpur route. Before that, in 2001, Ukrainian air defense shot down a Tu-154M airliner of Siberia Airlines flying SBI1812 on the Tel Aviv-Novosibirsk route over the Black Sea during an exercise. All 78 people (66 passengers and 12 crew members) on board died.