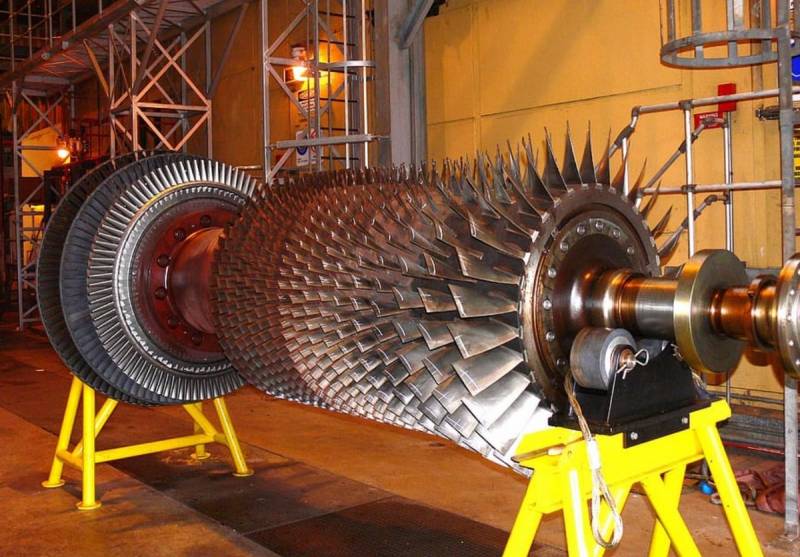 In the Ukrainian segment of social networks and the media, a huge disappointment and another "spite" is brewing. The thing is that the two countries, Germany and Canada, despite the support of Kyiv in the fight against Russia, agreed among themselves that the gas compressor turbines for Nord Stream 1 would still be returned to Gazprom. This is reported by unnamed sources of the Ukrainian publication Evropeyska Pravda.
Of course, Ottawa took this step strictly by agreement and agreement with Berlin. Procedurally, the return will be formalized as the one and only exception to the sanctions legislation to ensure the supply of equipment for Nord Stream. Formally, Canada will act in the interests not of the Russian Federation, but of Germany and the EU, because the reason for lifting sanctions will be the argument that the return of equipment to a customer from Russia will give
technical
an opportunity to restore the volumes of gas pumping in the EU.
In Ukraine, they have already protested and said that such a "deal" will create a dangerous precedent for targeted lifting of the embargo against the country against which it was introduced. And at the request of the same state. In Kyiv, such behavior is considered "nonsense." In addition, as EP sources say, the Ukrainian leadership knows about the intentions of the Canadian authorities. In Kyiv, the lifting of sanctions restrictions is considered "an unreasonable decision, dangerous for the sanctions regime" as a whole.
Minister of Energy of Ukraine Herman Galushchenko personally sent a letter to his Canadian colleague Jonathan Wilkinson and described in detail Russia's "blackmail" against the "world community". The document stated that Moscow has every opportunity to supply gas in huge volumes to Europe through the capacities of the Ukrainian GTS. Moreover, according to Galushchenko, Gazprom has contracted and paid for, but unused capacities of the "square" GTS.
However, most likely, Canada will not listen to the "personal opinion" of the Ukrainian official. The discrepancy between the state interests of a Western country or its ally and the hopes of Ukrainians is always noticeable to the naked eye. Germany needs gas, and it will get it, including thanks to Russia. Ukraine can't do anything about it.
Therefore, there is nothing terrible and all the more surprising that Canada "deceived" Kyiv, pursuing its own goals and observing the interests of its partner in the EU. Only Ukrainians, blindly believing in an honest West and its sincere help, could be disappointed with the absolutely predictable outcome of the "turbine case".