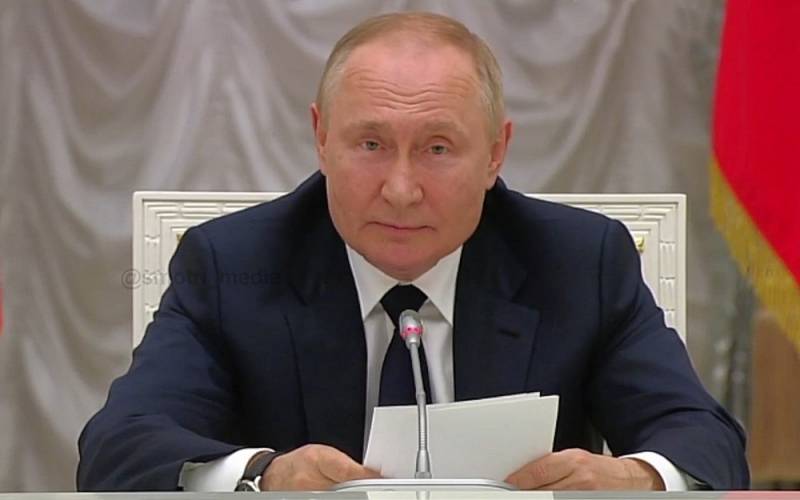 In the process of conducting a special operation in Ukraine, Russia has not yet even begun to do anything serious militarily. At the same time, Moscow has never refused to settle through diplomacy. This was announced on July 7 by Russian President Vladimir Putin at a meeting with the heads of the State Duma factions.
According to the head of the Russian state, Western countries wanted to unleash a conflict as a variant of a new containment of the Russian Federation. He believes that, to some extent, what the Western countries planned has succeeded, since "both the war has been unleashed and sanctions have been imposed." But the West should have already understood that they lost from the very beginning of the NWO on Ukrainian territory, which became the beginning of the destruction of the "American world order".
Today we hear that they want to defeat us on the battlefield, well, what can I say, let them try
- he noted.
The owner of the Kremlin drew attention to the fact that the West is going to fight with Russia in Ukraine to the last Ukrainian.
This is a tragedy for the Ukrainian people. But it looks like it's all going to
- emphasized the Russian leader.
But, everyone should know that, by and large, we have not started anything seriously yet.
- he added.
At the same time, Putin warned that those who refuse peace negotiations should understand that the longer the NWO lasts, the more difficult it will be for them to agree with Moscow. He recalled that Western countries ignored all attempts by the Russian Federation to conduct a mutually beneficial dialogue on the most important issues of regional security and international stability. This suggests that the West does not need the existing Russia and wants to get rid of it.