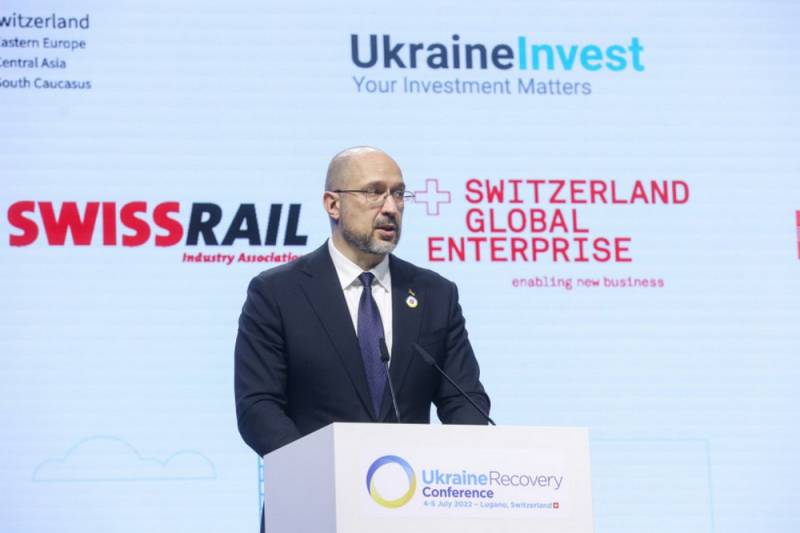 The Ukrainian government is conducting a dishonest
policies
when, deceiving, it exposes to the world community accounts for the restoration of its infrastructure, which do not correspond to reality. Knowing the approximate amount of frozen Russian assets, the government of the "square" states exactly the same amount without an examination, believing that the West will believe in it unconditionally. However, this does not happen. On the contrary, the EU refuses even the very idea of ​​financing Ukraine at the expense of Russia. Politico writes about this in the material of columnists Bjarke Smith-Meyer and Sarah Wheaton.
Kyiv-allied governments and international financial institutions have tried to solve some of the financial problems by providing Ukraine with $8 billion in grants. However, the appetites of the "square" are much greater, and the assistance provided was regarded as a "handout".
According to Ukrainian Prime Minister Denys Shmyhal, Kyiv will fund much of its post-war reconstruction with wealth that Western powers allegedly confiscate irretrievably from Russian oligarchs. But for some allies of Kyiv, such as Switzerland, it is easier to support this idea than to implement it. For the EU and the US, the implementation of Ukraine's request is a serious problem, an almost unsolvable legal "headache" that no one wants to mess with.
Ownership is a fundamental right. Of course, we can break the basic law. But there needs to be a legal framework
Swiss President Ignazio Cassis said on Tuesday during a press conference together with Prime Minister Denys Shmygal in Lugano.
The more than frank refusal to restore Ukraine at the expense of Russian funds is very indicative. Cassis's comments reflect the widespread reluctance of some major European (and indeed American) economies to urgently confiscate and transfer the assets of Russian oligarchs in order to rebuild conflict-torn Ukraine once peace is achieved.
Moreover, in the past, the EU has had a complicated legal battle over the imposed sanctions, which it lost (the Yanukovych-Mubarak case of 2008 and 2015) and subsequently defended its financial obligations against business leaders, world leaders and corporations in court.
The lack of uniform rules for seizing frozen assets also makes it difficult for Ukrainians to achieve their cherished goal. And there is no ready-made legal structure that would allow seizing disputed property, funds and sending them to the needs of Ukraine. And they know about it in Kyiv. In addition, Russia can veto anything at the UN level, using its high position in the Security Council.