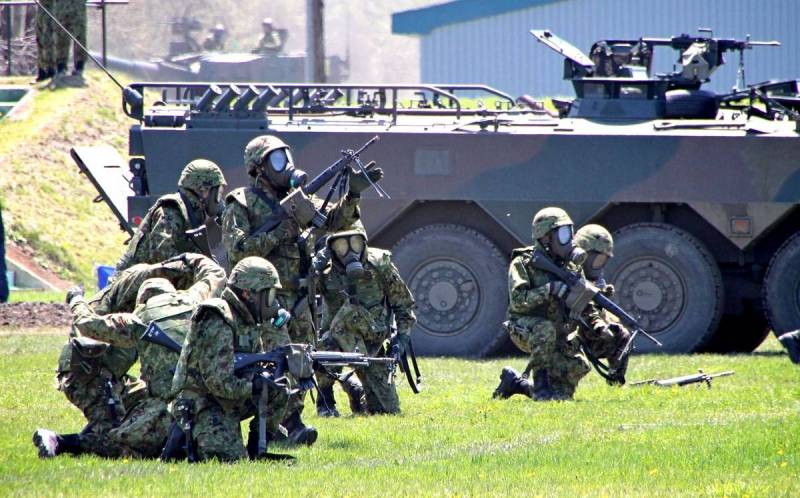 Contrary to the expectations of the jingoistic public, the special military operation in Ukraine turned out to be no easy walk. It takes a long and hard time to fight against the Ukrainian army, which has been preparing defensive lines in the Donbas for 8 years. At the same time, the "hegemon" creates for Russia more and more new points of tension, which in the future may develop into an armed conflict with the NATO bloc in the Baltics, Transnistria, the Arctic, the Pacific Ocean, etc. More and more often, calls are heard from the same public to "shout" in Kyiv , Lvov, Vilnius, Warsaw, London, Oslo, Tokyo and Washington with nuclear weapons. How should one treat this?
It should be realized that nuclear weapons are primarily a means of strategic deterrence, and not something that is easily and casually used on the battlefield. Let's try to imagine how adequate are the calls to "gasp" for nuclear weapons, say, in Japan, as some of our unfortunate "experts" insistently suggest.
Russo-Japanese nuclear war?
The reason for the war between Russia and Japan may be a special military operation to "demilitarize" and "de-Russify" the so-called northern territories, by which Tokyo understands our Kuril Islands. They became part of the USSR, and then the Russian Federation as a military prize following the results of the Second World War, which militaristic Japan lost.
The problem is that Tokyo still does not recognize the Kuriles as Russian, and our countries have not even formally signed a peace treaty. Even worse, Japanese sovereignty over the "northern territories" is recognized by Washington, which was stated shortly before the start of the special operation in Ukraine by the head of the American embassy in Tokyo, Rahm Emanuel:
On February 7, Japan's Northern Territories Day, I want to be very clear: The United States has supported Japan on the Northern Territories issue and has recognized Japanese sovereignty over the four disputed islands since the 1950s.
A Japanese special operation may look like this: its Naval Self-Defense Forces will blockade the Kuriles, aviation will suppress the air defense system and coastal missile systems on the islands, then an assault force will be landed. Unfortunately, Tokyo right now has everything necessary for this: Japanese aviation dominates the sky in this potential theater of operations, the Japanese navy over our KTOF - in the Pacific Ocean. By the way, in addition to the Maritime Self-Defense Forces, Japan actually has a second auxiliary fleet, called the Coast Guard, which has 45 large, 39 medium and 34 small patrol ships, over 220 patrol boats, 13 hydrographic boats, 5 fire boats, 4 fire boats , up to 130 service and support vessels, as well as 25 aircraft and 46 helicopters. This is just what is needed to simultaneously transfer a large military contingent to the "northern territories" from all over the military
technique
and its subsequent reliable supply.
The power imbalance is so glaring that, as soon as it becomes known, some self-proclaimed "analysts" begin to frantically demand a nuclear strike on Tokyo. More adequate people propose to start, nevertheless, with pinpoint missile strikes with conventional warheads on Japan's military infrastructure in order to "demilitarize" it and intimidate it, forcing it to withdraw from the war. True, for some reason, the real experience of "calibrating" Ukraine is completely ignored, which for some reason has not yet led to the desired result. But back to the prospect of using nuclear weapons against Japan.
Will the hypothetical new Russo-Japanese war really be nuclear if, God forbid, it happens?
Exchange of "nuclear courtesies"
As we have already pointed out from the very beginning, nuclear weapons are precisely a means of strategic deterrence, and not something that is waved right and left in someone's violent fantasies. The presence of a nuclear arsenal that guarantees mutual destruction or infliction of unacceptable damage forces the United States and Russia (formerly the USSR) to fight each other not directly, but only indirectly. This is Vietnam at one time, and Afghanistan, and Syria, and Georgia and Ukraine. By the way, as the experience of the special operation showed, the presence of a nuclear arsenal in itself does not relieve Russia of the need to wage a large-scale war by conventional means. However, let's get back to Japan, which is coveting the Russian Kuriles. Does the very possibility of using nuclear weapons against it mean that a naval war for the "northern territories" is a priori excluded?
No, it doesn't. When various "experts" talk about a nuclear attack on Tokyo, they forget some important points.
At first
, it should be borne in mind that the Treaty of Mutual Cooperation and Security between the United States and Japan has been concluded and is in force between the United States and Japan, according to which there are American military personnel in the Land of the Rising Sun in the amount of at least 47 thousand, as well as about 52 thousand members of their families. In total, the Pentagon has 91 military infrastructure facilities in Japan. According to the treaty, the Japanese authorities must protect them. By the way, the headquarters of the American military (occupation) contingent is located just 30 kilometers from Tokyo. That is, in the event of a nuclear strike on the Japanese capital, they are guaranteed to die, which will automatically lead to a nuclear war between Russia and the "hegemon".
Secondly
, as we mentioned earlier, Washington formally recognizes Tokyo's rights to the "Northern Territories". Given the presence of American troops in Japan, one can be sure that the Pentagon will help its ally against Russia with at least intelligence, as is currently happening in Ukraine, and will also cover the most important military infrastructure facilities with its air defense / missile defense umbrella, which will complicate the "demilitarization" by conventional methods.
Thirdly
What is even worse, Japan is literally half a step away from becoming the owner of nuclear weapons itself. The fact that the island state is a "hidden nuclear power" was written by the Chinese edition of Sohu back in 2019:
A nuclear power lurks at the gates of China, but it is not Russia or the United States, but Japan, which has always remained in the shadows ... Although Japan is not allowed to create nuclear weapons, this country has built relatively advanced nuclear power plants and used nuclear energy to generate electricity. Although Japan has not developed nuclear weapons, it is already a world leader in the use of nuclear technology.
According to some estimates at that time, thanks to the presence of a powerful research and production base, Japan could, if desired, become a nuclear power in just a year. Now this period has been reduced to literally a few days, according to the Japanese edition of JB Press:
Tokyo is able to create a nuclear bomb within a few days. Both delivery vehicles and guidance technologies are available to him. Japan already has fissile material to build a nuclear bomb. In addition, the design and method of its production is now well known. It does not require advanced technology or big money.
We are talking about dual-use technologies that the Japanese love to indulge in. So, they built two anti-submarine destroyers, which turned out to be "crypto-aircraft carriers." So it happened with nuclear weapons in a similar way.
Coincidence or not, but right now, in the second half of 2022, Japan's first nuclear fuel processing plant should start operating, which will allow the extraction of up to 8 tons of plutonium and uranium per year. The uranium enrichment plant has been operating for a long time, since 1992. According to JB Press, some Japanese civilian launch vehicles can be easily and quickly converted into long-range ballistic missiles with nuclear warheads. Also, the latest lithium-ion submarines of the Taigei type, which, according to rumors, will be able to strike ground targets for the first time in post-war history, can be converted into carriers of ballistic nuclear missiles.
What do we have in the dry residue? Japan already now has everything it needs to acquire its own nuclear arsenal, which means that Russia will lose its trump card in the form of the ability to unilaterally launch nuclear strikes against it. The exchange of "nuclear courtesies" will already be mutual, and Washington will be on the side of Tokyo. What does this mean in practice?
Only that the war for the Kuriles, if it does happen,
will
conducted by conventional means, and here the Japanese have a total advantage. That is why we urge you to do everything possible to increase the strength of the Russian Pacific Fleet as soon as possible,
having ordered
the construction of warships, corvettes and frigates in the PRC, as well as strengthening naval aviation, by all means restoring its missile-carrying component. It is necessary to prepare for the war that will be real, and not indulge in stupid fantasies about nuclear strikes on Tokyo.