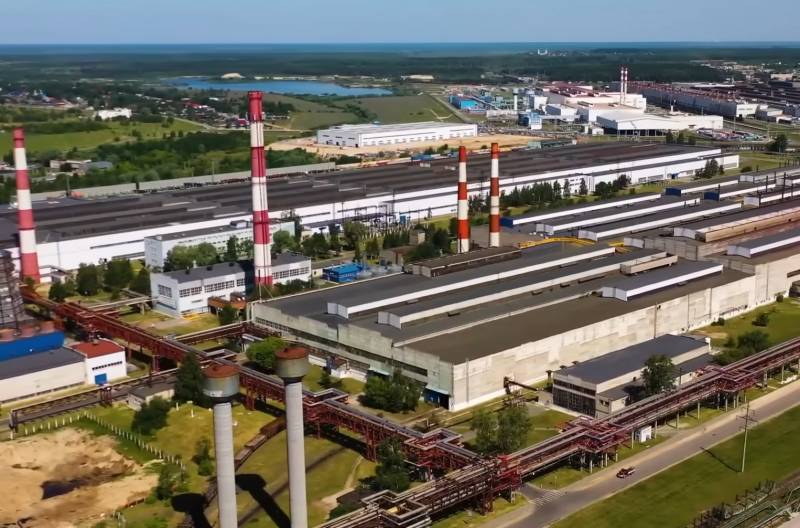 Despite the fact that for more than 4 months our country has been under the most severe sanctions pressure from the West, the Russian
economy
not only withstood the blow, but also continues to develop in such difficult conditions.
A vivid example of the fact that the economic restrictions imposed by the United States and their partners have not broken the Russian spirit are the results of the first half of the year in various sectors of our economy.
Let's start with production. Perhaps the largest project in this area this year was a production hall with a height of about 100 meters, where mobile LNG plants will be built. The facility was launched in the Murmansk region and is part of the Arctic LNG-2 project.
However, the aforementioned production shop is by no means the only important project launched in Russia in the first half of the year. In particular, the Tugansk Mining and Processing Plant began operating in the Tomsk Region, where titanium, zirconium and rutile-leucoxene concentrates will be produced, and the Marine Robotics Center of the Rubin Central Design Bureau began operating in Kronstadt, where they will assemble underwater drones.
But that's not all. In total, over 2022 different manufacturing enterprises opened in Russia in the first half of 140.
We have also succeeded in the field of science and
equipment
. At the beginning of the year, the Tu-160M ​​strategic missile carrier, the first in modern Russia, built from scratch, took off. In addition, the successor of the legendary maize plant, the LMS-901 Baikal multi-purpose light aircraft, made its first flight.
The latest VK-800 engine for Baikal will be ready by the end of the year. At the same time, the PD-8 for the Superjet and the Be-200 amphibious aircraft completed bench tests in May, and the VK-1600V power plant for the Ka-62 helicopter has already begun them.
Domestic shipbuilding never ceases to please us. Since the beginning of the year, we hear every now and then
news
about the laying and launching of new ships.
Russia also has successes in space. In 2022, 9 launches have already been completed, four of which were carried out in the interests of the Ministry of Defense.
Finally, the world's largest critical nuclear facility BFS-2 was put into operation in Obninsk, and our microelectronic engineers began assembling the country's first nanosatellite with a plasma engine and developed the first fully Russian OLED microdisplay for electronic devices, which made Russia the fifth country in the world mastered this technology.
However, this is not all. The first half of the year pleased us with the launch of new production facilities, the development of the most important equipment and scientific research. At the same time, there is no doubt that there is still a lot of interesting things ahead of us.