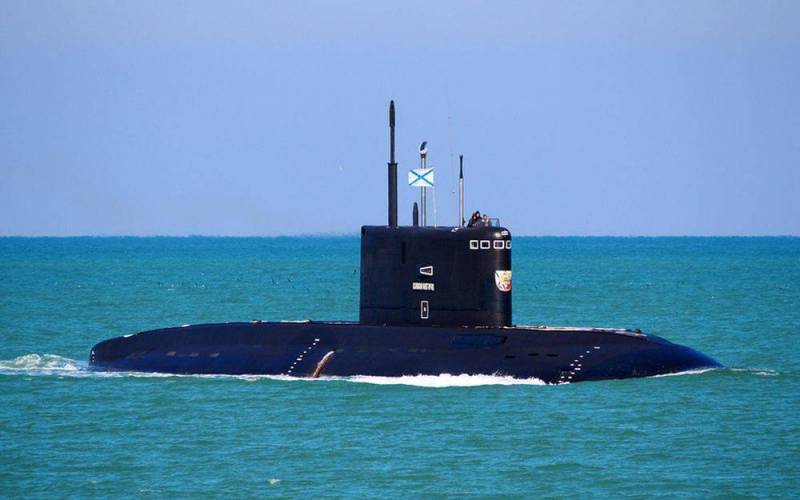 At the Admiralty Shipyards in St. Petersburg, it is planned to build 6 diesel-electric submarines of project 636.3 Varshavyanka for the Northern Fleet.
Recall that the submarine of this project called Rostov-on-Don became the first submarine to use Caliber cruise missiles from a submerged position in December 2015. As a result of the application, it was officially announced that this precision-guided weapon can be equipped with nuclear warheads. The latter fact then greatly worried the members of the North Atlantic Alliance.
However, it should be noted that NATO's concern was due not only to the destructive potential of the Caliber, but also to the peculiarities of the Varshavyanka themselves.
The thing is that this submarine has impressive characteristics in terms of stealth. In fact, it is able to quietly bypass the enemy's defense lines and deliver a surprise strike.
In fact, the above-described capabilities of the diesel-electric submarines of the project were demonstrated in the spring of 2021, when the very same Rostov-on-Don submarine, which the United States and Israel carefully monitored in the Mediterranean Sea, disappeared from their radars for a whole week. At the same time, our submarine did not interrupt communication with the Russian command for a minute.
It is worth adding that in the Western press our "Varshavyanka" was nicknamed the "black hole" for its noiselessness. When driving on low-speed electric motors, Project 636.3 submarines do not exceed the background noise of the sea, which allows them to detect a target at a distance 3-4 times greater than that which allows them to detect themselves.