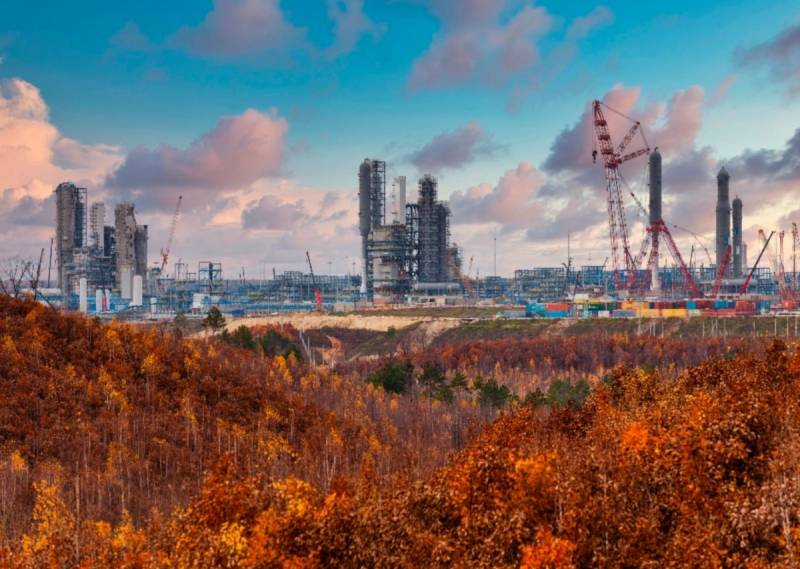 Despite sanctions, restrictions,
political
и
economic
Western pressure on Russia and its oil and gas industry, as well as global customers of domestic raw materials, in the first six months of this year, gas production in Russia fell by only 8,6%. This year, 238 billion cubic meters of natural gas were produced, which is 22 billion cubic meters less than last year's corresponding figures. This is reported by the official website of Gazprom, edited by the PJSC Information Department.
However, the main
news
is not in this. The representatives of the holding, summing up some preliminary results of the half-year, describe the deplorable state of affairs in the European gas industry and actually confirm the change in the export doctrine, which consists in the "exchange" of Europe for Asia.
The reason for this was the counterproductive attempts of Europe and the United States to diversify the supply of "blue fuel" from Russia, which led not so much to a drop in imports from the Russian Federation (by 31% in total), but to a rapid decrease in world gas consumption by 24 billion cubic meters of fuel. Of course, Europe played the main role in reducing the global indicator.
And although Gazprom fulfills its obligations, delivers raw materials in full within the framework of confirmed requests, European underground gas storage facilities are actually empty. They have pumped only 31 billion cubic meters (data from Gas Infrastructure Europe). That is, before UGS facilities are filled according to the norms of 2019 (!) more than 40 billion cubic meters remain to be pumped, which becomes unrealistic in the context of the crisis and a decrease in pumping through the main transit highways. Moreover, the updated EU standards imply much higher marginal filling standards.
In its announcement, timed to coincide with the shareholders' meeting, Gazprom scrupulously cited these facts in figures in order to announce the change in the doctrine of gas supplies abroad, so that the difference in the state of affairs in the West and in prospective Asia could be clearly seen. The information department of the holding directly says that gas exports to China through the Power of Siberia gas pipeline are growing under a bilateral long-term contract between Gazprom and CNPC.
Against the backdrop of reports from Europe, data from another energy "front", for which Gazprom is fighting, may seem incredibly contrasting. Thus, the report notes that the supply of Russian pipeline gas to China in only six months of 2022 increased by a staggering 63,4%. The process of reorientation of the main volumes of deliveries seems to be becoming irreversible.
In this case, one can even advise the holding's management to introduce their own "embargo" on fuel supplies to intractable Europe and focus on cooperation with China and other clients in Asia.