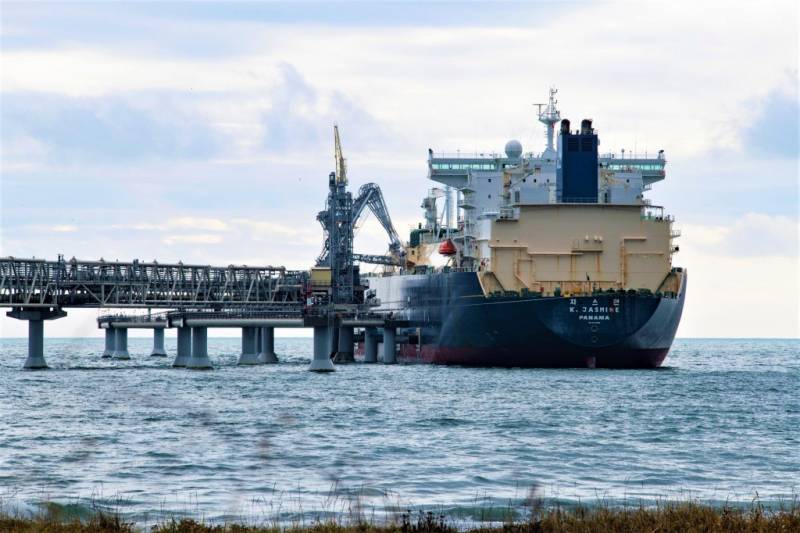 Most recently, Russian President Vladimir Putin signed a decree providing for the nationalization of Sakhalin Energy, the operator of the Sakhalin-2 LNG project. After such a step by Moscow, the German government decided to strike back and, as a mirror response, decided to confiscate gas tankers serving the Russian Far Eastern energy project. This circumstance will make it impossible to deliver domestic gas to Asian countries.
The thing is that Gazprom chartered for its needs for long periods (until 2028) these vessels through Gazprom Marketing and Trading, which, as you know, is part of Gazprom Germania. The German government expropriated the latter into state ownership back in April. Thus, the charters of the Amur River, Ob River and Clean Energy tankers were formally under the full control of the German authorities. However, they made flights until May, making several flights to China. In June, they were inactive, and in July, in response to Putin's decree, the German government decided to completely seize the courts.
The reason for this was the nationalization of Sakhalin Energy by Russia, which had two Gazprom tankers Amur River and Ob River in sub-freight. In other words, in order to prevent the transfer of gas carriers to the disposal of the Russian Federation, Berlin hastened to carry out an action that it "did not finish" in April with the nationalization for an indefinite period of subsidiary Gazprom Germania.
Dynagas, the owner of all of the tankers listed above, has confirmed that it has taken control of its assets. So far, no one from the parties involved has commented on the situation, especially in terms of how the withdrawal will affect the operation of the Sakhalin-2 project. It is now known that another gas carrier is heading to the port of Prigorodnoye, where liquid fuel is being loaded. It is likely that other vessels will be chartered as the LNG tankers described above have not made deliveries since June and the project is running non-stop.
It is noteworthy that in Germany there are no plans to use ships taken from the Russian Federation yet. Although, most likely, they will be involved in the supply of LNG to Germany against the background of the gas crisis and attempts to solve the problem with liquefied raw materials. Against the backdrop of the ongoing hype around LNG, it is difficult and expensive to charter a gas carrier, in Berlin they solved this problem in such an extraordinary way, simply by taking away the vessels from another sovereign contractor.