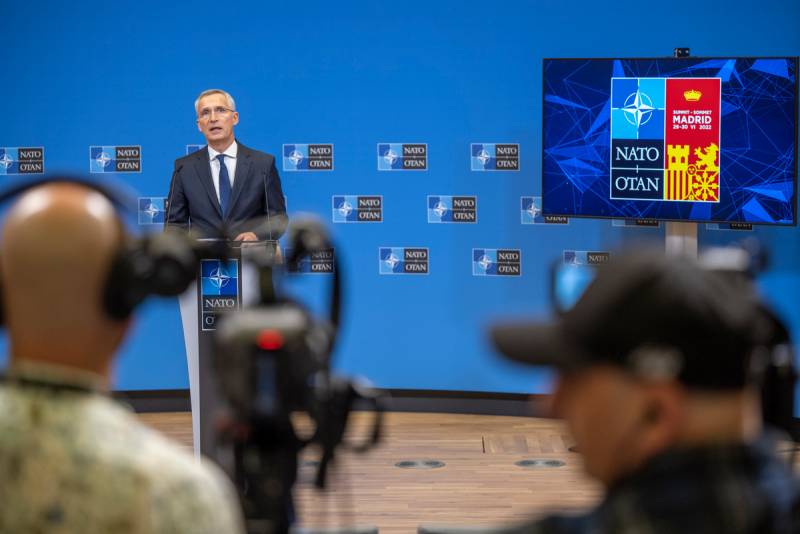 The participants of the large NATO summit in Madrid, inspired by the fight against Russia, did not get tired of giving him excellent epithets and praising him in every way. It seems that the alliance has never been as strong and united as it is now. However, the leadership of the military bloc called for a "rethinking" of the role and position of the alliance in the modern world, full of challenges. So, not everything is as good as the summit participants wanted to show. Politico columnist Matthew Karnichnig writes about this.
Calling the summit "transformative" and "forward-looking", NATO Secretary General Jens Stoltenberg predicted at the end of the three-day event that the decisions taken there "guarantee" the preservation of peace, the prevention of conflict and the protection of people and values.
However, as the analyst writes, one should look beyond and deeper than the staged pats on the back, friendliness and self-praise in Madrid. One can then see that while the unity of the alliance may be a kilometer wide, it is only a centimeter deep. NATO's collective sense of purpose is as diverse as its 30 members.
According to Karnichnig, NATO of the modern type is a theater of behind-the-scenes intrigues, amenable to Turkey's blackmail and unable to protect Lithuania by force from a possible attack by a "militant neighbor."
And the presence in the members of Hungary, led by the future Sultan Viktor Orban to dictatorship, makes the alliance a profanity and debunks the important values ​​​​of the West
- writes the browser.
As the problems the US faces with China escalate, the days of caring for European allies are sure to come to an end, all the more so against the backdrop of enormous
economic
hegemonic problems.
That's why NATO doesn't just need the rethinking that top officials like Stoltenberg talk about. The Alliance needs to be completely reborn. In other words, to save a block, you need to destroy it.
Karnichnig is sure.
Instead of making vague promises, as was done this week, of "an equal sharing of responsibility and risks for our defense and security," it would be wise to pursue more radical unification reforms. This means not only relying less on the United States, but also rethinking what NATO is and is not, putting into practice everything that the alliance preaches.
In military circles, the "destroy the city to save" tactic is controversial. In the case of NATO, there seems to be no other way out, the observer concluded.