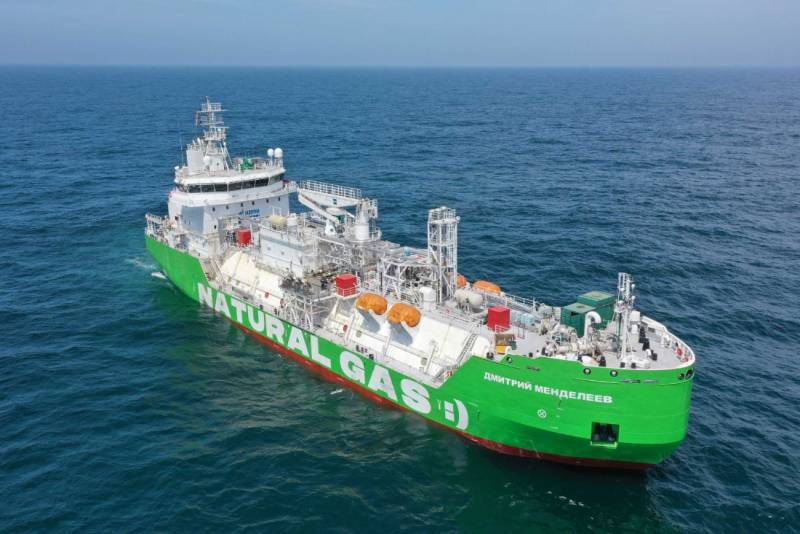 Gazprom's refusal to pay dividends to its shareholders for 2021, among which there are foreign entities, collapsed the Russian stock market. However, it wasn't the worst.
news
end of June. This month, for the first time in history, exports of Russian gas, the main supplier of which to the EU is the holding, yielded in aggregate terms to US LNG imports to Europe. Raw materials from across the ocean bypassed domestic exports in terms of volume only because circumstances allowed it to do so. The volume of transit through the Ukrainian GTS decreased, as well as the problematic repair of the Nord Stream 1 pipeline and the temporary shutdown of the gas pipeline along the bottom of the Black Sea.
There is no reason to panic, since even with record deliveries, traders from the United States achieved volumes of 5,3 billion cubic meters, while imports through pipelines from the Russian Federation, which was no less record-breaking, amounted to 5,1 billion cubic meters. In other words, without "straining", Russia pumps a little less than America, which has squeezed out all the capacities of its mining and processing industry.
However, the event so expected, joyful for the EU representatives, did not bring a single positive moment for the Old World. The formal June "victory" of gas from the United States over a competitor from Russia led to a 60% rise in the cost of raw materials, its shortage and imbalance in the EU market, since the Netherlands, France and Spain, which have regasification terminals, mainly received LNG. The skew in the geography of deliveries is obvious. Russian gas was enough for all those in need, and it was available not in batches, but all, in a continuous stream.
LNG volumes are only enough for current needs, and after redistribution through internal EU pipelines, recipients get very small volumes. Naturally, no amount of logistics and "savings" allow finding additional volumes of unused gas to fill UGS facilities for the winter. If we take into account the fact that long-term contracts for Asian buyers of American LNG will soon begin to operate, then we can no longer expect new records in terms of the volume of liquefied fuel delivered to the EU, all supplies of raw materials will go to another region.
So such a temporary "victory" of one competitor over another cannot be described otherwise than as an imaginary Pyrrhic victory that will come back to haunt the alleged winner of this battle. In addition, while publicly showing satisfaction with the fait accompli of successful friendship between the US and EU energy companies, Brussels does not forget about the problems of American shale producers, about the fire at the largest terminal, about the peak of supplies that has gone forever, and the coming winter without Russian gas.