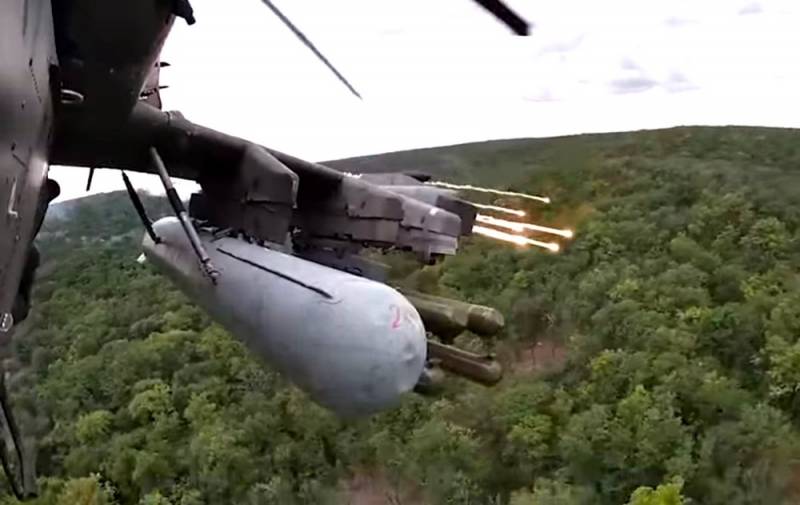 In the course of the Russian special operation on the territory of Ukraine, interesting videos periodically appear on the Web that document this or that event. For example, footage of the elegant departure of the Russian Ka-52 Alligator reconnaissance and attack helicopter from a missile fired from a MANPADS has been published.
The video, made from surveillance footage of the rotorcraft itself, shows how it moves through the air during the course of the mission, episodically shooting off heat traps. At one point, in the immediate vicinity of the Alligator, an enemy missile passes by.
This indicates that the departure of the Ka-52 from the MANPADS ammunition became possible due to the high-quality work of the airborne defense system L-370 Vitebsk (President-S - "President-S" for export deliveries). It is designed to warn the crew about radar and laser impact, the facts of launching guided missiles at it, as well as to counter missiles with radar and infrared homing heads aimed at it. The complex itself detects the launch of enemy ammunition and activates the use of passive interference and active protection, which leads to disruption of the missile seeker and their escape to false targets. This is what was shown in the video.
According to available data, helicopters of the Russian army aviation sometimes reflect up to 5 launches of MANPADS missiles from the Armed Forces of Ukraine per flight. This suggests that what is seen in the video is commonplace for helicopter pilots who encounter similar things on every mission.