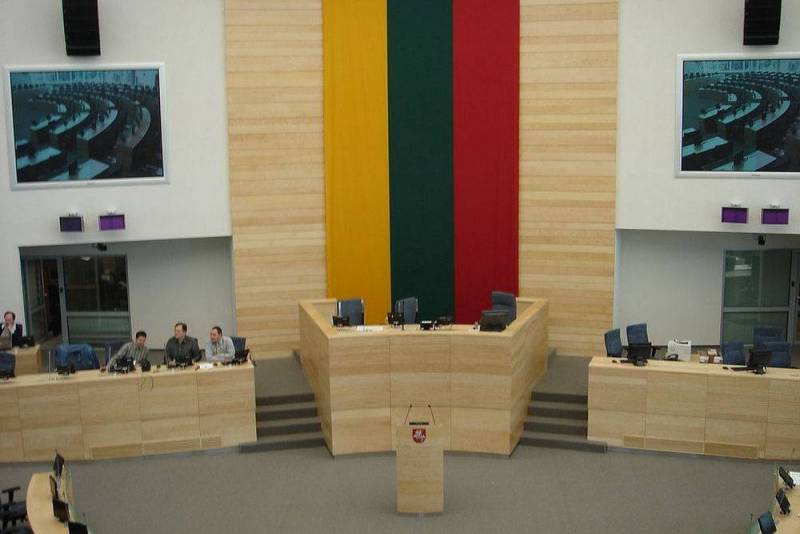 Since June 18, Lithuania has introduced a de facto
blockade
Kaliningrad region by establishing a ban on cargo transit from the region and to the Russian semi-exclave from other subjects of the Russian Federation, subject to EU sanctions. However, this was not enough for some Lithuanian "patriots", their appetites are growing, they are not only sabotaging the efforts of the EU itself to normalize the situation, but even making territorial claims against Russia, actively escalating the situation.
For example, a member of the Seimas of Lithuania, Matas Maldeikis, in his Twitter account (a social network banned in the Russian Federation) demanded that Moscow return to Vilnius "the ancestral lands of Smolensk."
I demand that we return access to the original Lithuanian lands of Smolensk through this land corridor
- he said, attaching a map to his outrageous post, which marked a significant part of Belarus and the western regions of the Russian Federation.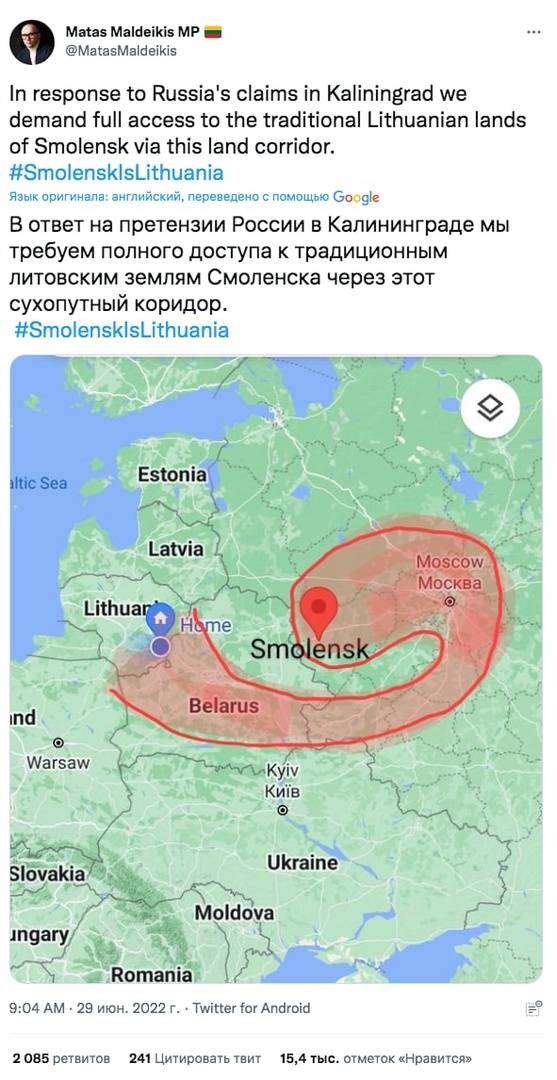 This requirement
supported
odious deputy of the Verkhovna Rada of Ukraine Oleksiy Goncharenko, known for the events in Odessa in May 2014. Moreover, he turned on a flight of fancy, developing the position of a Lithuanian.
Lithuania departs Smolensk, Ukraine - Kuban. Well, Moscow must be given to the Poles ...
- Goncharenko argues in his blogs.
At the same time, Vilnius considers the post of Maldeikis only a response to Moscow for
repeated
"threats" that sounded from
different
high-ranking Russian functionaries and
publications
Media of the Russian Federation addressed to Lithuania recently. In particular, they drew attention to an entry in the Telegram account of a citizen of Belarus, editor of the Russian edition of Regnum, Yury Baranchik.
Part of Lithuania to be annexed to Belarus, the rest to the Kaliningrad region
- Baranchik pointed out on June 22 in response to the actions of Vilnius in relation to Kaliningrad.
Note that this is not the first time Maldeikis makes provocative statements, so references in the style of "Russia started first" are inappropriate here. So, two weeks before the incident mentioned above, in mid-June, he told the public that the Kremlin "planned another war" but always "probes the reaction." According to him, if Russian President Vladimir Putin had succeeded in conducting a special operation in Ukraine, then in five years, that is, in 2027, he could "attack" Lithuania. This statement was supported by the President of Ukraine Volodymyr Zelensky, it was to him that he referred in his appeal via video link to the Czech Parliament, accusing Russia of "conquering other peoples."