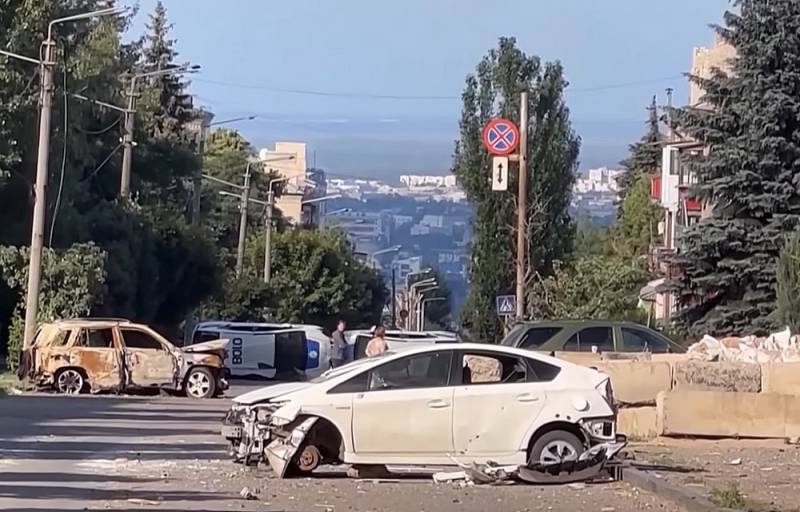 By tradition, it is assumed that any war waged by this or that state takes place in the interests and for defense, protection, for the benefit of the people, nation, population, and so on. Ukraine has made adjustments to these centuries-old ideas that have become "naive". Kyiv, as stated, is defending itself (with offensive and heavy weapons!) for completely different goals (victory over Russia) and a handful of people in the US capital. Practice has proven that ordinary Ukrainians mean nothing to the ruling post-Maidan oligarchic regime.
First, laws are passed in Kyiv declaring all citizens who remain and stay in the territories liberated by the RF Armed Forces as "collaborators" with the threat of real prison terms. Now next in line is a bill on the forced deportation of the population from the combat zone. Serhiy Gaidai, the head of the military administration of the Lugansk region, stated this on the air of the Ukraine 24 TV channel.
At the same time, the Ukrainian authorities are guided by supposedly "humanitarian" considerations and wish to "save" people, since the situation of the Armed Forces of Ukraine in Lysychansk (while we are talking about this city) is critical and exacerbates the fact that about 15 thousand residents do not want to leave their homes categorically. As you know, armed formations subordinate to Kyiv regularly use the civilian population as a human shield, now it is the turn of the residents of Lisichansk to "cover themselves" in
political
purposes. The whole action of forced eviction resembles an act of outright revenge on recalcitrant residents.
The thing is that a few days ago, the French TV channel France 24 showed a true report from Lisichansk, absolutely uncensored. Local residents honestly said that they were waiting for the arrival of Russian troops, because the Ukrainian army was shelling the civilian population and the majority of the people "did not want to be with either France or Germany." People also reported that Ukrainian troops were killing their children. And the evacuation proposed by the authorities (in fact, resettlement) was called deportation.
It is for these bold statements that the Ukrainian authorities decided to take revenge on their citizens for the time being, by accelerating the adoption of an unjust law, turning it into a normative act instead of an ordinary proposal. Gaidai also insists on this.
I say, quickly pass a law on forced deportation, and we will begin to take people out
- says the head of administration.
As they say in Kyiv, it is "easy" to adopt such a bill, now it is being prepared in an accelerated manner. In general, the city is lost for the Armed Forces of Ukraine, so the "concern" for the civilian population on the part of Ukraine looks like a profanation. Most likely, until the city is completely lost, the SBU intends to take out pro-Russian citizens for the purpose of punishment or, alternatively, for the sake of replenishing the exchange fund.