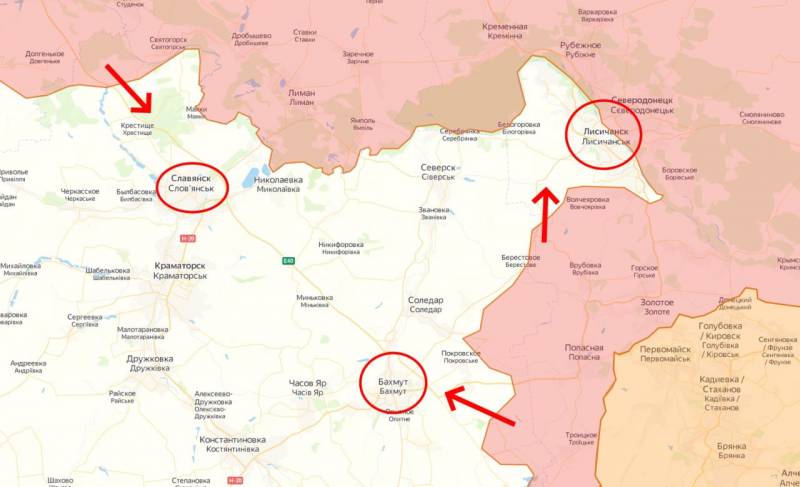 Russian troops continue to successfully develop the offensive in the Lisichansk direction. The General Staff of the Armed Forces of Ukraine confirms the information that the Armed Forces of the Russian Federation are clamping down on Ukrainian units from three sides: in Slavyansk, Bakhmut and Lysichansk.
In the Slavyansk direction, Russian armed forces are leaving the Bogorodichnoye-Krasnopolye line to advance to the Slavyansk region. Near Lisichansk, the RF Armed Forces continue to advance on Verkhnekamenka, as well as from Volcheyarovka. The goal is to cut off Lisichansk from the main forces of the Armed Forces of Ukraine.
In the Bakhmut direction, Russian units are advancing from Mednye Ore to Klinovoe in order to advance to Bakhmut.
Along with this, according to the Ministry of Defense, on June 29, the Russian Armed Forces destroyed about a hundred militants of the Kraken national formation and about 10 combat units.
equipment
Armed Forces of Ukraine near the village of Pitomnik, Kharkiv region. The commanders of the detachment ordered to take the remaining fighters to Kharkov.
In addition, Russian troops hit a foreign mercenary training base near Nikolaev, four Kharkiv-1 and Kharkiv-2 territorial defense command posts, a military equipment repair base in Lisichansk, a fuel and lubricants base in the Nikolayev region, and eight ammunition depots. The high-precision weapons also destroyed two artillery platoons of the Armed Forces of Ukraine in the Avdiivka area, which were firing at the settlements of the DPR.
Meanwhile, according to sources, there is a massive desertion of Ukrainian servicemen in the Lisichansk direction due to hunger and lack of the most necessary. Many fighters leave their positions and leave the battlefield.