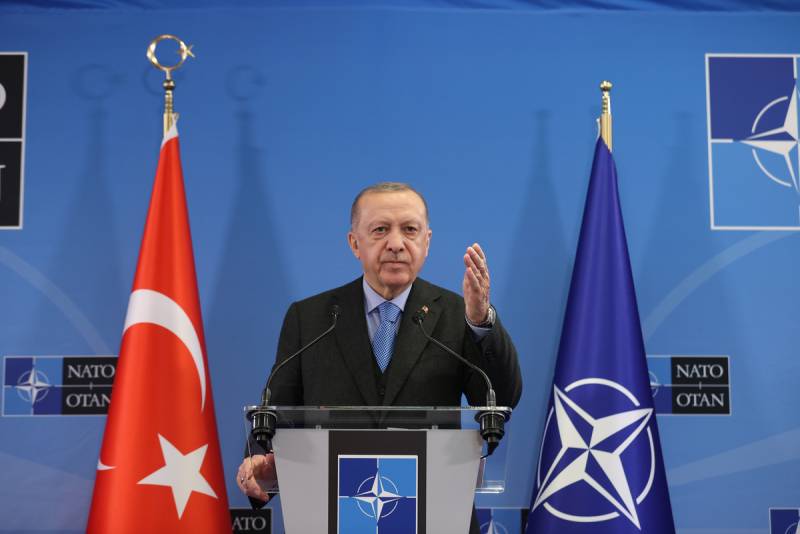 On a direct order from Washington, Sweden, Finland and Turkey "accelerated" finding compromises beneficial to the United States, and also "suddenly" agreed to conclude an agreement that removes all obstacles in the way of Stockholm and Helsinki to join NATO. This precedent claims not so much to be a fateful one for the military bloc, as it will become an indicative bad signal for Kyiv.
The formal basis for the deal was the refusal of Sweden and Finland from their long-term efforts to support the Kurds, whose main social associations in Turkey are recognized as terrorist. This compromise is called mutual security guarantees. In other words, Helsinki, and especially Stockholm, simply betrayed their protégés or, as they say now, "proxies" who have enjoyed European protection for many years. Ankara, in this case, very successfully "sold" its voting rights, not really worrying about the real security or destruction of the PKK, YPG and other Kurdish organizations.
The head of the republic, Recep Erdogan, has always been famous for his truly oriental ability to successfully bargain and sell his position, position, a significant "no" no less profitably. In this aspect, nothing unforeseen happened, especially since the White House very persistently asked the junior partners in the North Atlantic bloc to forget the contradictions as soon as possible.
The tripartite treaty actually created a precedent when, for its own benefit and at the request of the US "hegemon", international humanitarian and civil law is being reshaped. Sweden and Finland changed their position so quickly, turning the Kurds from partners into terrorists with a stroke of the pen, that the rest of the participants and pretenders to European protection should think about it. For example, Ukraine as a junior partner and the main client of the entire European community. The conclusion is clear: Kyiv will be betrayed when the time comes. Moreover, this is inevitable and laid in the very foundation.
political
and material support.
Provided global sympathy, even representation of interests in the international arena can later be "paid for" by a vile betrayal, the price of which is past trust between the de facto overlord and vassal, a dependent party in need of protection. In this case, one cannot say that Turkey was "added on" or Sweden and Finland "sold their interests". Everything happened as it should: the parties to the tripartite "agreement" simply held the cards until the right moment, exchanging them for their own benefit and Washington's loyalty.
However, this is not surprising, because Turkey itself, as a member of NATO, is the fruit of compromise and chance, being accepted into a military bloc due to its geographical location in the "underbelly" of the USSR. There is nothing strange in the fact that Ankara treats backstage peculiar bargaining at the highest level with "understanding", since at one time it itself became a victim of such manipulations and is now actively participating in them, having found out the rules of the game.