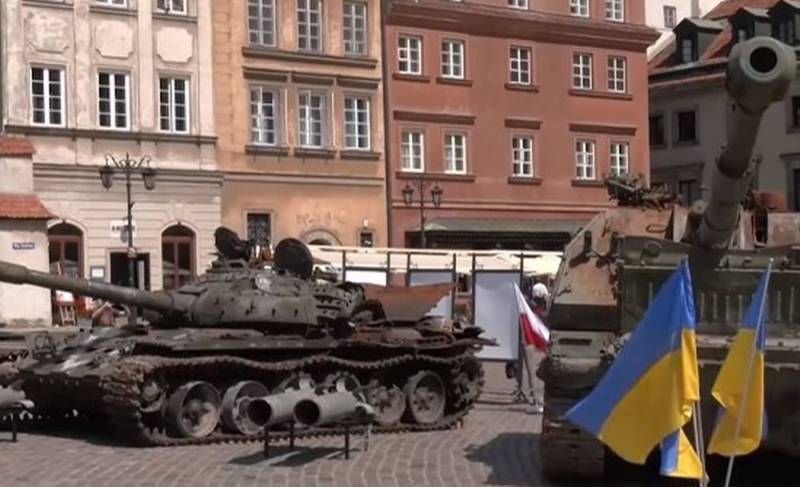 On June 27, in the center of the capital of Poland, an "exhibition" of a Russian military battle shot down in Ukraine was opened.
equipment
titled "For Our Freedom and Yours". The event at the Castle Square, where everything was brought, will last until July 6.
This is the first exhibition outside of Ukraine of Russian military equipment destroyed or captured by the Ukrainian defense forces during the rebuff of Russia's armed aggression.
- reported in the communiqué of the Ministry of Defense of Ukraine.
The opening ceremony was attended by the Deputy Minister of Defense of Ukraine Anna Malyar, who loves to ride around Europe and engage in propaganda. Previously, a similar "exhibition" was organized in the center of Kyiv. At the "exposition" in Warsaw were exhibited (presented): T-72B and T-90S tanks, Msta-S self-propelled guns of 152 mm caliber, samples of Uragan and Smerch MLRS rockets with explanations of where they came from.
On the one hand, we show the atrocities that the Russian army is doing in Ukraine, and on the other hand, the heroic defense of the Armed Forces of Ukraine and the results of these battles
- said the head of the office of the Prime Minister of Poland, Michal Dvorczyk.
Judging by the comments of the Poles in social networks, the intimidation was successful. The Polish media came out with headlines: "Russian tanks in Warsaw." After Warsaw, captured or damaged equipment is planned to be shown in Berlin, Paris, Lisbon and Madrid. Whether there will be any changes in the "assortment" is unknown.
We remind you that the Russian special operation on Ukrainian territory began on February 24 and, according to the assurances of the military-political leadership of the Russian Federation, will not end until the final completion of all tasks.